In Search of the Perfect Picture
As an Amazon Associate I earn from qualifying purchases. For more details, please see our disclosure policy.
Are you searching for perfection in your holiday family photos? Life as MOM contributor Deanna shares her recent quest to create the perfect Christmas card photo that will convince you that it is possible.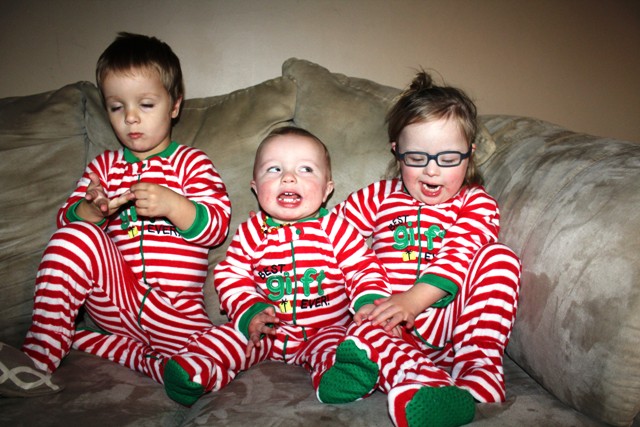 I operate by lists. I thrive on building expectations. I love a good plan.
Knowing that, you might find it hilarious that I have 3 children under the age of 4. Anyone who understands small children knows all too well that children live to defy the expectations of their parents.
For example: taking a Christmas card picture.
Grandma so thoughtfully found the kids some matching sleepers that looked like Christmas morning. Taking the sleepers out of the bag made me want to dip something in cinnamon while hugging a Christmas tree and bellowing out carols in front of a fake fireplace. Perfect. Now all I had to do was to get a good picture!
I had it all imagined out.
Three children sitting so peacefully on the couch. Small lips stretching into beautiful smiles- the smiles that get me up each morning. Eyes that are so similar and yet 3 distinct pairs sparkling back at me. Cheeks flushed just enough to look festive but not enough to look like they need a liquid Tylenol IV drip. Perhaps tiny hands tightly clasped together- or arms thrown lovingly around a sibling. Legs and feet sitting peacefully side by side as they know how important this picture is to me.
A heap of all my favorites leaning into each other and laughing hysterically just as I snapped the picture that would make the chaotic year of 3 in diapers seem like a sweet package tied up in a beautiful red bow because of the magic that would be our Christmas card picture.
Just one thing left on the list.
My list:
Buy sleepers (check)
Dress children (check)
Imagine out picture scenario (check)
Get the perfect picture! (……….)
I placed the children carefully on the couch with my camera in hand and a "can do" attitude.
Smile at mommy! Hug the baby! No- let go of his neck! Smile again! Say AHHHHHH! Stop pushing! NO! (Catch the baby as he is pushed off the couch)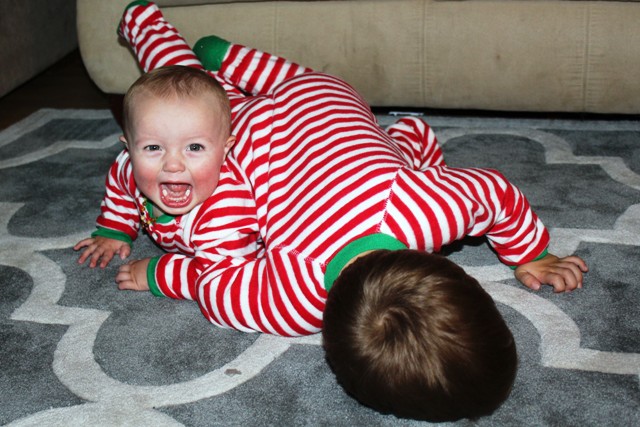 Hold hands! With each other….Get your foot out of your sister's face! Stop wrestling! Smile! Stop kicking your brother!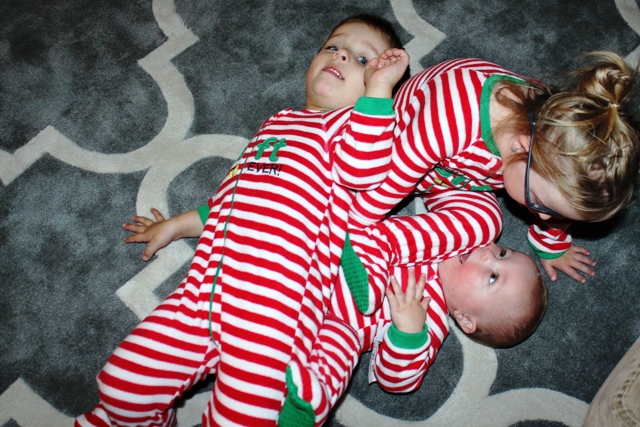 Everyone smile at once! Please! Everyone who smiles will get a chocolate chip! Smile! No, stop begging for a chocolate chip. Not yet. NOT YET. Smile! Get back on the couch- it's only been 30 seconds. No, you don't get a chocolate chip. You have yet to do anything but scowl. Everyone smile! Yay! Wait- did my camera battery just die?
I uploaded 179 pictures to my computer that afternoon.
179. Out of that number, you would think for sure that my picture of magic was there somewhere?
Nope. The chaos of the year came through clearly in all of the pictures.
I uploaded 4 of them to Instagram as a joke with a caption something about the grandparents' calendars being late this year as the one picture that I needed wasn't being cooperated for.
I went to fix dinner, stewing about the perfect picture that my list dictated that I needed.
It wasn't until later that evening when I sat back down to look at the 179 pictures that I realized- these are perfect. My imperfectly, messy life full of love, laughter, and a whole lot of stickiness was all represented in these pictures. The toddler scowls, the baby's dramatics, the splotch on the couch from a disobedient child sneaking food out of the kitchen- it was all there. The sibling camaraderie, the desire to be off exploring instead of cooperating, the eagerness for fun- sparkled in all 3 sets of eyes.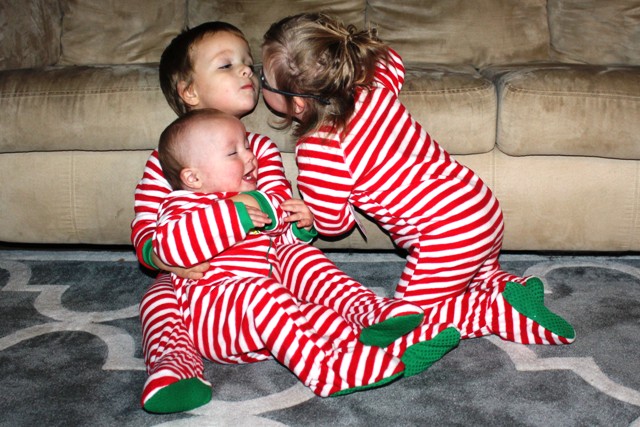 I don't know know why I do this to myself. I always imagine what perfection should look like instead of opening my eyes and staring at it already in front of me. I try to define in black and white the candy caned colored mess in front of me when the brightly colored tangled toddler limbs are indescribable any other way.
If you got the "perfect" Christmas picture- good for you. (Also, don't tell me, k?)
For me? I am more than happy with the imperfection of mine. Because when I look closer?
I realize this is so much more fun and realistic of our lives right now. The only thing that would make these pictures better would be if each card came in the mail slightly sticky…smudged with a chocolate chip or two.
Deanna is passionate about special needs advocacy and new motherhood- two things that go hand in hand for her right now. Three kids four and under, the oldest of which has Down syndrome- keeps her quite busy. But there's always enough time left at the end of the day to write all about the insanity at her blogEverything and Nothing from Essex. And to laugh- always, always there is time to laugh.
Technically labeled a "special" mother, Deanna really finds nothing special about herself. Truly, special needs parenting is just about taking it one day at a time- enjoying the highs, sloughing through the lows, and stumbling through the mundane while drinking too much coffee. Read all of Deanna's posts here.
What perfectly imperfect can you find in your life today?