Ingredients for a Fun Family Night: A Panda Feast
We are a participant in the Amazon Services LLC Associates Program, an affiliate advertising program designed to provide a means for us to earn fees by linking to Amazon.com and affiliated sites. We participate in other affiliate programs as well. For more details, please see our disclosure policy.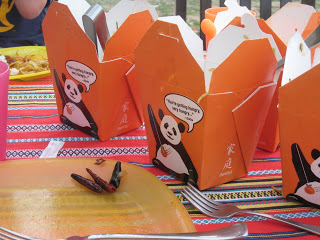 Chinese food eaten al fresco – what a joy! It's a rare treat for us since chinese take-out can be so pricey. But, we've got a routine. Here's how it goes:
I set the rice cooker going before I head out to the Happy Panda (or whatever it's called). Hubs holds down the fort, and the boys set the table. How fun a few weeks ago to see that they had set up a table outside!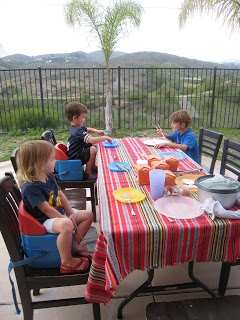 I bring home "a Panda Feast" which includes three main dishes and two sides for $30. (Yes, it's a splurge.) But, since I have cooked my own rice, we bypass the rice and order two sides of chow mein instead. In essence, we have five cute little boxes stuffed with yummy goodness for thirty bucks. We end up gorging ourselves for dinner and usually have enough leftover for lunch the next day. And these are definitely two meals that we enjoy immensely.
And funky chopstick tricks make the memories all the richer! What a fine thing it is!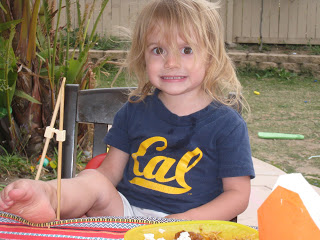 For more fine things, visit Finer Things Friday.