Inquiring Minds Want to Know
We are a participant in the Amazon Services LLC Associates Program, an affiliate advertising program designed to provide a means for us to earn fees by linking to Amazon.com and affiliated sites. We participate in other affiliate programs as well. For more details, please see our disclosure policy.
Thank you to everyone who completed my survey from a few weeks ago. It was very enlightening to read what you like, what you want, what you could live without. Dessert, especially chocolate, was a keeper. See how much we have in common?
Some of your questions made me laugh — in a good way. Like this one:
I would like to know HOW, with six kids, you manage to keep a home clean and the laundry caught up! I have no kids, but I get so frustrated keeping our home tidy and clean – so much so that I go through periods of time when I just STOP. That's not working well either. You would think after 10 years of marriage I would have this homemaking thing figured out a little better – at least the cleaning part – so I'm just wondering if you have any methods or schedule that you use to keep up with the uglier side of life as a mom (or wife)?
Ah, well. Here's the thing. I'm realizing that I can't do all the things that I coulda, shoulda, woulda all the time. I can get the laundry done only to turn around and find that the kitchen is a wreck or someone exploded a Lego bomb in his bedroom.
Life, at least my life, is like two steps forward, one step back. For much of the day, our living room looks like this: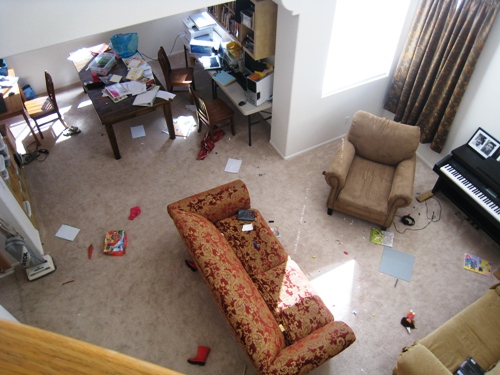 — or worse! Piles on tables and random stuff on the floor is just part of my life. It usually gets cleaned up by the time we go to bed at night. Or on a very, very, very good day, by the time hubs gets home at night. Messes are a part of my life.
I would love a perfectly spotless home, but that just isn't part of my season of life. The days pass too quickly, and something's gotta give. Currently, I'm working on "picked up most of the time" and clean clothes on our backs. Some days I get a bulls' eye. Sometimes I miss the mark.
I try to make sure the kids do their part. I'm trying to get on a cleaning schedule. And I reassess my expectations of myself often.
I'm working on not getting too freaked out about it as well. If my husband and kids are loved, happy, and well-fed, I'm good.
Where do YOU let things slide — just a little?