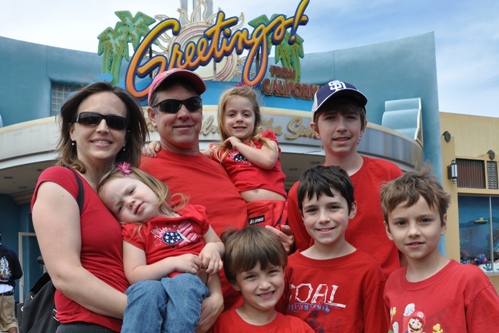 Greetings from California! This is an old, old photo, taken shortly after we moved back to our home state. We'd been on a long journey to get here, so I look at it as a rather iconic snap, our little post card to the world.
So much has changed in the years since my people were this little. That dark headed boy is just a few inches shy of being taller than his mama!
The world's communication system has been changing, too? Six years ago, I didn't have a Facebook account, and our family still surfed the web via dial-up. Things are constantly in flux. And the way web services operate changes, too. For instance,
Facebook no longer shares Life as MOM updates with all of you. About 1/5 of registered Facebook readers are getting status updates.
Google Reader will be going the way of the dinosaur in a few months, making that daily blog read a little harder to navigate.
Those of you who have been longtime email subscribers to Life as MOM should have received an email newsletter from me last week. I've been experimenting with a new mail service and trying to figure out the best way to let you know about special things happening on the blog as well as other fun things to help your "life as MOM".
If you didn't get the email, it may have fallen in your spam file. Or, you just aren't on my list. If you'd like to be on the list, today's the day to sign up.
Please note that this is a special newsletter that will be arriving monthly. This will not take the place of regular daily emails for subscribers. But, it is a great way to keep up with things on the blog as well as to get advance notice on freebies, new printables, sales, and other fun stuff to do with your kids.
If you haven't already, consider signing up for this newsletter. I'll be sure to write.
You can unsubscribe at any time, so don't feel like you're signing up for life.