iPhone Apps that Can Help You
We are a participant in the Amazon Services LLC Associates Program, an affiliate advertising program designed to provide a means for us to earn fees by linking to Amazon.com and affiliated sites. We participate in other affiliate programs as well. For more details, please see our disclosure policy.
The right iPhone apps can help you make light of every day chores and add enjoyment to your life.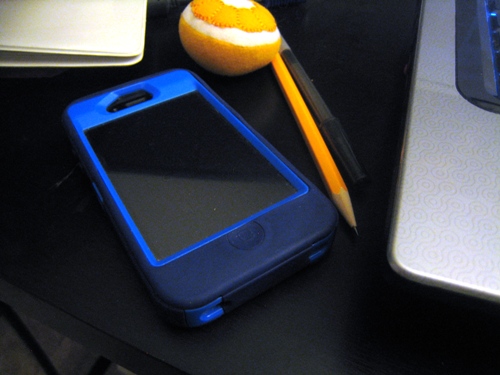 About a year ago I broke down and bought an iPhone. I bought the iPhone4 for $99, exactly $99 more than I had ever paid for a phone. Up until that point, all my cell phones, ever in my life were free.
Please understand the magnitude of this. This was a huge, ginormous, big, honking deal.
$99!
A year later, I'm really glad that I did. Having a mini computer in phone form has helped me check the weather, answer emails, find a phone number, check the traffic, locate an address, track my calories and exercise, get my house in shape, and figure out meal plans and grocery lists.
Most of the apps I use were free to download via iTunes. I'm still choking over that $99, so I'm not ready to spend a lot of money on apps.
Here are my favorites that I use on a regular basis:
Pre-loaded apps
These apps were already on the phone when I bought it. Since I don't read directions, I have simply figured out how to make them work for me over time. Some are pretty self-explanatory.
Messages – I rarely texted before the iPhone, but with iMessage and its unlimited free texts, I can ask my mom or sister a quick question, send my dad a photo, or send cry for help to a myriad of friends. I'm still not an all-day, every day texter, but I love this feature on my phone.
Clock – The clock not only tells me the time, but it lets me set a bazillion alarms. I use the alarms for keeping our school on an even keel. I use the stopwatch often during recipe development so I can make notes on how long a certain part of a recipe takes. I use the timer to track my daily time budget as well as keep tabs on the kids' game time or school activities.
Photos – Duh, this is merely a camera roll of photos take on your iPhone. I download all the photos to my computer on a regular basis so there aren't usually an abundance of photos on the phone. I do need to get more practiced at backing up my photos from there, though.
Calendar – I use Google calendar as well as a paper calendar in my planner to track my appointments and responsibilities, like writing assignments. I sync Google calendar to my phone so that I always have at least one copy of my calendar with me. Invaluable.
Weather – I'm not thrilled with the pre-installed weather app from Apple. It's often "off". But, I like its display better than others I've tried. I track the weather in Paris and Collioure as well as where my parents and my in-laws live. It's kinda fun to know what the weather is like elsewhere. If you've got a favorite weather app, I'd love to know about it.
Calculator – I use the calculator function several times each week, while grocery shopping or paying bills. I love having a calculator so handy.
Notes – This is probably one of my favorite pre-loaded apps. I write down recipes, lists, things I want to remember. I can then message it or email it to myself or someone else. Super handy. Plus, it syncs to my iPad, so I always have those notes with me. On our recent vacation, I started keeping notes of packing lists, freeway exits, and other things to remember next time we take a road trip.
Reminders – I use this every single day. Reminders are formatted in checklist form so I use it mostly for grocery lists. As soon as something hits the cart, I tap it and it disappears off my list. I have a list for each store I shop at. An added feature is that I can move items from list to list. If Costco doesn't have something, I can move it to my Walmart list in just a few clicks.
Music – I don't have a huge music collection since I've been too lazy to load my CDs into iTunes. If you keep up with your iTunes, you'll have a great collection.
Safari – If you're a mac user, you already know that Safari is the Apple internet browser. I use this almost on a daily basis to read articles and blogs on the internet and to do an internet search. With so much info available on the internet, it's like having an encyclopedia in my purse 24/7.
Mail – I love mail. While I prefer to answer emails from my laptop, the mail feature is quite handy for quick sending and receiving.
Phone – self-explanatory, no?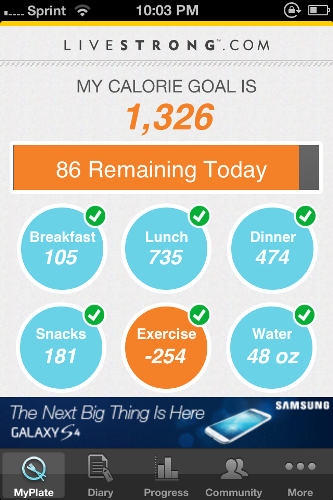 Free apps
My Plate by Livestrong – FishPapa and I both downloaded the free version of MyPlate last summer when we started counting calories and being more mindful of what we're eating. I took the winter off tracking. But, in light of my summer goal, I'm back to tracking my weight, water drinking, food intake, and exercise. I don't think that counting calories are the end-all/be-all of living, but I'm always surprised to learn how much I'm overeating. Seriously.
Google Maps – Google Maps has been amazing for me as I start to take the kids farther afield on field trips. It talks to me! Last summer our truck was broken into and our GPS was stolen. Now, it has been restored with Google Maps. Not only does this app tell me how to get somewhere, but it also gives me traffic updates, so I can avoid certain routes that might be too congested. This was particularly helpful on our recent trip through Los Angeles.
Note to self: Leave at 6 am if you plan to spend less than five hours in the car from San Diego to Santa Barbara on a Saturday.
Twitter, Instagram, Facebook – These social media apps make tweeting, posting, and sharing a lot easier. Since my dad and siblings have accounts, it's a great way for me to keep up with them. (You can follow me @fishmama, @jessicagfisher, and @LifeasMOM.
Pandora – Pandora's internet radio is the music app of choice around here. FishBoy11 listens almost 24/7. We have maxed out our number of free stations, but I refuse to pay for the upgraded version. I'm good with free.
YouVersion Bible – Earlier this year, you all clued me into the YouVersion Bible reading app. I love this way to stay in the Word without losing my place. Quite literally. I use this app on my iPad to read Bible with the kids each morning. So handy.
Apps that cost money
This post does include iTunes affiliate links. If you make a purchase through those links, I am paid a small amount in way of advertising fees. Your price is not effected.
Camera+ – Tsh told me about this app a few months ago. It's now my preferred camera app. I don't know how, but it takes much better pictures than the standard iPhone camera. Love it. And it was totally worth the buck ninety-nine.
Motivated Moms – I knew about the Motivated Moms planner for years. Once I got the iPhone, I tried out the app and loved it. While I usually lean on my household notebook, I really do like this app for jump starting my housekeeping. If I find that things are kind of in shambles, following the app's assignments for a couple weeks helps me get back on track.
Those are my main or favorite apps for iPhone that help me organize and enjoy my "life as MOM".
Do YOU have a favorite iPhone app?
I'd love to hear what helps you. Share it in the comments.