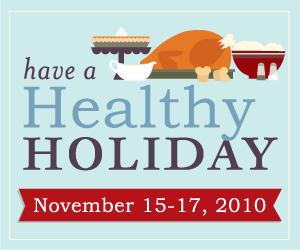 November is a favorite month around here. Not only do we celebrate the last two birthdays of the year, but the feast to beat all feasts occurs at the end of the month. My little gluttons gourmands adore Thanksgiving when we bring out all our favorite once-a-year treats.
And although, Nanna's Toffee Dream is certainly worth fighting for, it's a little heavy on the sugar. This year I'm hoping to strike a happy balance between preparing the special dishes we enjoy at the holiday time as well as avoiding excess. In the immortal words of Ma Ingalls, "Enough is as good as a feast."
That's why I'm so excited to be a part of the "Have a Healthy Holiday" series starting on the 15th of this month. I'll be partnering with some great bloggers and good friends to bring you healthier holiday recipes this year, giving you what you need to create "nutritious and delicious" from appetizers to desserts. These girls are keeping me and my food goals in check.
So, join me and Good Life Eats, The Thrifty Mama, Balancing Beauty and Bedlam, Saving Naturally, Surviving the Stores, and The Five Dollar Dinner Mom as we cook up all kinds of good eats this month.
What's YOUR plan for good eating this year?