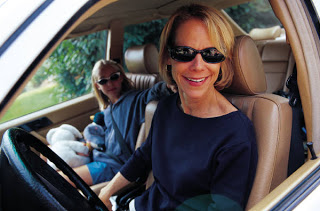 I don't know too many moms who really "identify" with their vehicles. I mean, it's not often that you'll hear a woman say, "Hey, what do you think of my new red mini-van? Isn't she sweet?" And it's probably even rarer to hear her talk about souping-up the engine, raising the suspension or painting racing stripes on the mom-mobile. It's just not done.
However, most mothers do spend a great deal of time in their cars. Errands, car pools and the daily commute keep mom on the road up to several hours a day. Not only does this cause great wear and tear on the vehicle itself, but carting kids and cargo all over town also takes its toll on the insides. Ever found last week's Happy Meal transformed into this week's science project? Or how about discovering that carton of sour cream you were sure you bought at the store but somehow never made it into the house? Last year's school papers, stray lipsticks, gym socks, baby shoes, dog toys and more "treasures" are hidden in the confines of the family vehicle.
Are your wheels in need of a makeover? For the rest of the story, see my article in this month's edition of Cleveland Family.