Is Credit Good for Teens?
We are a participant in the Amazon Services LLC Associates Program, an affiliate advertising program designed to provide a means for us to earn fees by linking to Amazon.com and affiliated sites. We participate in other affiliate programs as well. For more details, please see our disclosure policy.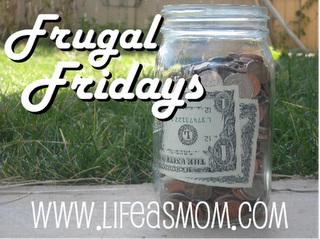 Last week, thanks to Motts, I attended the 2011 BlogHer Conference. Since it was just a short drive from home, I was able to attend during the day and come home to my family at night — a wonderful way to experience a conference!
One of the things that caught my attention in the Exhibit Hall was a display for "the anti-green movement." Here's their display: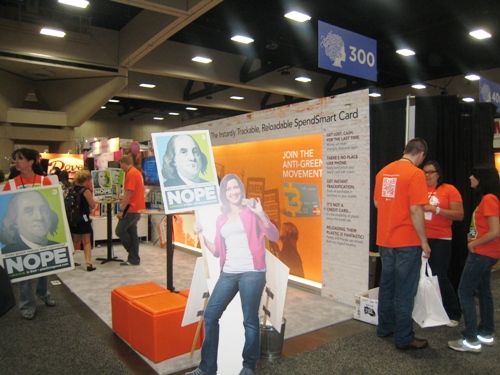 The words on the Ben Franklin sign:
Does green reduce teen spending? Nope. Green is bad. Plasticisgood.com
To be fair, they weren't promoting a credit card, per se. This organization is pushing an "instantly trackable, reloadable spend smart card." However, it did give me pause. Just as some kids aren't familiar with the great outdoors, fresh fruit, and playing a sport for real (as opposed to a video game version), many of our young — and old — people don't understand the value of a dollar.
Some — certain governments included — don't realize that money is a limited commodity. 
Some don't get it that when it's gone, it's gone.
Some don't know how to manage money so that there's some left at the end of the budget period.
While a plastic spending card certainly limits or prohibits a credit risk, I'm not sure that it teaches the value of a dollar. I think that cash communicates to our brains better than plastic. When it's gone, it's gone. Imagine that….
Having just experienced several months of using our debit cards instead of cash, I can say that it is all too easy to lose track of what you've spent if you're just using plastic. Having the green stuff in the envelope slowly disappear is a very poignant reminder of our limited funds.
And we are a culture that needs to understand limits. We have forgotten the lessons that our grandparents and great-grandparents learned at great cost. And so, what do we teach our kids?
What do YOU think?
Am I all wet? Or is learning to use cash a valuable lesson for our children? Does it matter the form that our spending takes?
Share your money saving idea below.