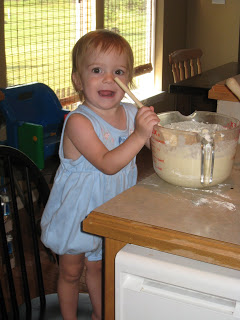 I don't know about your family, but mine is hungry 24/7. Not 30 minutes pass after dinner before someone asks, "What can I have to eat, Mama?" The good thing is that they are active, healthy children and they have the appetites to prove it. Since my oldest four are all boys, I anticipate that our need for ready meals and snacks is only going to increase through the years.
As we use up what we have, we're clearing space in the freezer. That leaves us room to fill it with all kinds of baked goods. Cooking ahead is great, but baking ahead is even better. I dunno…. maple-oat scone or beans and rice? Which would you choose?
So, this week is baking week for the FishFam, and as a result, for LifeasMOM. I've got all sorts of recipes, tips, tricks, and giveaways for baking up a storm. Here's a sampling of good things to come:
** Win a child's apron.
** Read along on Tuesday as the FishKids and I live blog and tweet our baking day.
** A homemade baguette tutorial
** Time for a Chocolate Chip Cookie throwdown. See for yourself if a recipe from Land O' Lakes can beat my own Gramma John's Blue Ribbon recipe.
** Ultimate Recipe Swap: Share Your Family's Favorite Cookie
** Enter for a chance to win free butter from Land O' Lakes.
** Reviews on good baking books and gadgets
** And don't forget to visit the Virtual Great American Bake Sale
I hope you'll join us!