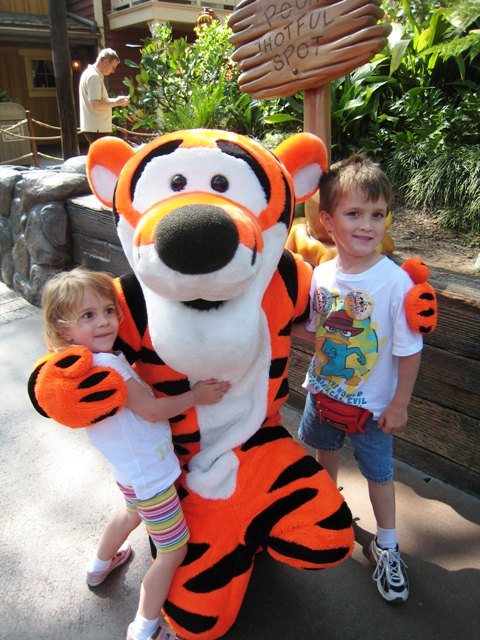 A joyful heart is good medicine, but a crushed spirit dries up the bones. — Proverbs 17:22
Awhile ago I read a moving article written by Randy Pausch, a professor at Carnegie-Mellon, who is battling terminal cancer. It provoked me in several respects, especially about making the most of the time we have with the ones we love, particularly our children. Mr. Pausch makes a reference to Winnie the Pooh and Friends that hit me rather hard. He says,
I came to an early realization. Each of us must make a decision, best captured in A.A. Milne's Winnie-the-Pooh characters. Am I a fun-loving Tigger or a sad-sack Eeyore?
Hmmm…. now the Pooh series has never been one of my favorites, but my children love it, particularly the videos and films. As a result, we are all familiar with their characters. I have never liked Tigger because I have viewed him merely as "irresponsible". I had never really thought about him as "fun-loving." But, this article has made me rethink the characters residing in the 100 Acre Wood. And myself.
The boys and I talked about what characters we are most like. We have one boy whose ears often hang as low as Eeyore's. When tummies are rumbling, you can bet I have a whole houseful of PoohBears. And we have a few Rabbits in our midst on occasion. In fact, when I told my baby brother about the discussion, he implied I was a Rabbit! (I was afraid of that.)
(For fun, check out the lyrics to "How to Be a Tigger.")
So, I've been thinking about my attitude and how it effects my kids. What kind of voice am I using? What kind of words? What memories am I giving them? These are sobering thoughts, indeed. How can I be fun, not just plan fun things?
Over the last couple weeks, we've talked about being joyful and about our motivations. So here the conversation continues in a different vein.
Is there a difference between being fun and having fun? Is fun important in the life of your family? Some might say that "fun" is a vain pursuit. Other parents make "fun" more important than responsibility. Can the two co-exist? What do you think?