It's OK Not to Go Overboard
We are a participant in the Amazon Services LLC Associates Program, an affiliate advertising program designed to provide a means for us to earn fees by linking to Amazon.com and affiliated sites. We participate in other affiliate programs as well. For more details, please see our disclosure policy.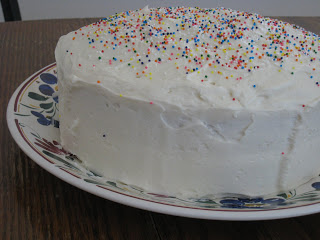 I am probably in the minority when I say that. But, it's ok not to go overboard. I had to tell myself that this weekend.
You see, I had big plans for a fancy, shmancy cake for my mom this weekend. (I mean, I do have a reputation to uphold, after all.) But, my computer didn't cooperate with me and I couldn't print out the cake toppers I wanted. I had limited time as I spent Friday afternoon and evening and all-day Saturday at a homeschool conference. As I fought with my computer's memory-incapacity, I had to stop and think.
It's ok not to go overboard.
In reality, my mom doesn't care. Mom likes white cake with white icing. She doesn't really want something more. Struggling to make it more would not benefit her. And even though it didn't turn out to be a fancy, shmancy cake, Mom still liked it. (In fact, we all ate two pieces.) In the end I got time to do more important things, like hang out with my mom.
If you need to, give yourself permission not to go overboard this week.
Happy Mother's Day!