Baking a pie with your children can be a wonderful memory-maker as well as a tasty afterschool activity.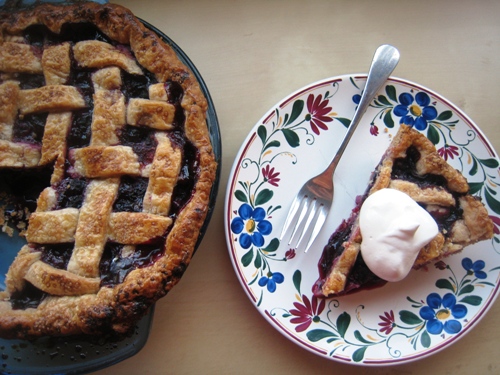 I have reclaimed my love of pie. When I saw some tweets or Facebook updates last week about Pi Day, it reminded me to bake a pie. Eating said pie also reminded me how very MUCH I adore pie. And it's been too long. Seriously.
Having my five year old help me reminded me how I've fallen back into my old ways of efficiency over experiences. She loved helping me! And I've been way too stingy in letting her help. And now, looking at this video, I'm reminded how quickly she's growing! If I don't indoctrinate her in the love of baking and eating pie now, I may miss my window!
(If you can't see the video, go directly to the video on my YouTube Channel.)
Today is a fabulous day to bake a pie with your kids. Flour may fly, but the end result will be delicious — and memorable.
Don't know how to bake a pie from scratch?
Don't worry. I'll show you. Bop around through these posts and you'll find all you need to whip up some fantastic pies in short order.
Pie Basics

Fruit Pies
Frozen Pies

Savory Pies
What's YOUR favorite pie?