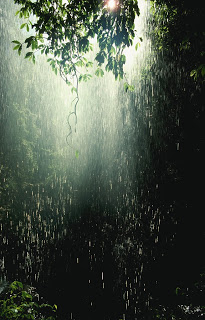 Ok, it's not really raining. In fact, it's 100+ degrees on this lovely Kansas City day. With the heat index, it's 105, to be exact. I know, y'all in Phoenix and other desert areas are laughing at me, but you've got a dry heat. Try 54% humidity.
But that's not all…..
Yesterday my morning out was a tad compromised by my van overheating. We thought it was simply due to being low on water and oil. (Ladies, check your fluids!) I added water my very own self and then came home for FishPapa to add oil.
But, then….
I woke at 3 am this morning in a dripping sweat. Hormones, surey. But, nonetheless, I went to crank the AC, only to find out that it was 83 and only warm air was coming from the vents. Hmmm…..
This afternoon a HVAC friend of FishPapa's came over to repair whatever was wrong. We called it "pulling our ox out of the ditch," so thankful that he was willing to stop by on a Sunday. However, the house temp got as high as 91 degrees before I loaded up the kids for Walgreens and the library.
But, then….
On our way home the van started to heat up again, lights blinking, bells ringing. So, we made a quick stop at the closest parking lot where I found that my skills of adding water were unnecessary. The fluids were fine, so my expertise was exhausted.
My knight-in-shining-armor came as soon as he could, while we waited in the pseudo shade of a tree. It was rather comical to watch FishBoy4 attempt his first "peeing on a tree" with his brothers shielding his heiny.
Long story short….I am now home, my house is cooled to 87 degrees, FishPapa is on his way home with the van and all the necessary components to flush out the radiator and other whatchamacallits.
It makes a good story.
And I thank the Good Lord for Air Conditioning.