What happens when you combine Jalapeno Poppers with Potato Skins? You get these amazingly good Jalapeno Popper Potatoes, the perfect side dish for any occasion.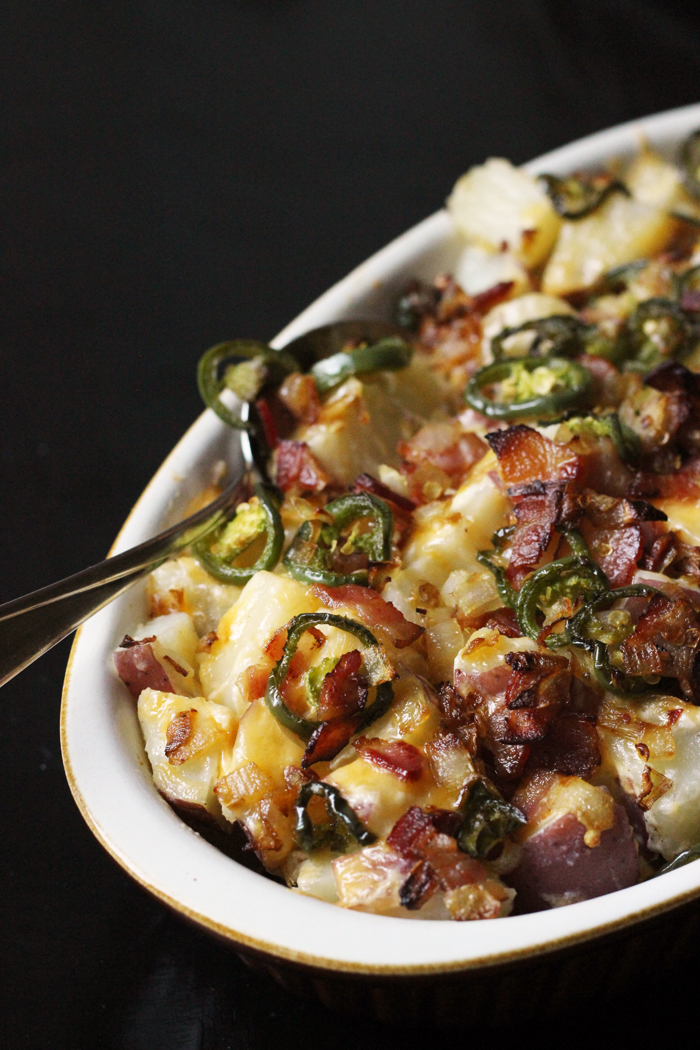 Jalapeno Poppers and Potato Skins are probably two of my favorite appetizers. I don't have them often. I wouldn't be able to stop eating them. They are so good, aren't they?
I mean, you really can't go wrong with bacon and jalapenos. Years ago we had a neighbor who made these delicious bacon appetizers. They were strips of bacon wrapped around the tiniest bits of cream cheese and jalapenos. Sometimes she added pineapple chunks, too. They were time intensive to make, but oh so delicious to eat.
And since then, I love jalapeno poppers when made with good cheeses and wrapped in bacon. Yum!
You can't go wrong with bacon and potatoes, either. That's why combining bacon, potatoes, jalapeno, and cheese is such a phenomenal combination. 
This is a delicious side dish for burgers, grilled or roast meats, and any number of other main dishes. I like it with a green salad for an almost meatless meal.
Truth be told, I could probably eat the entire pan all by itself.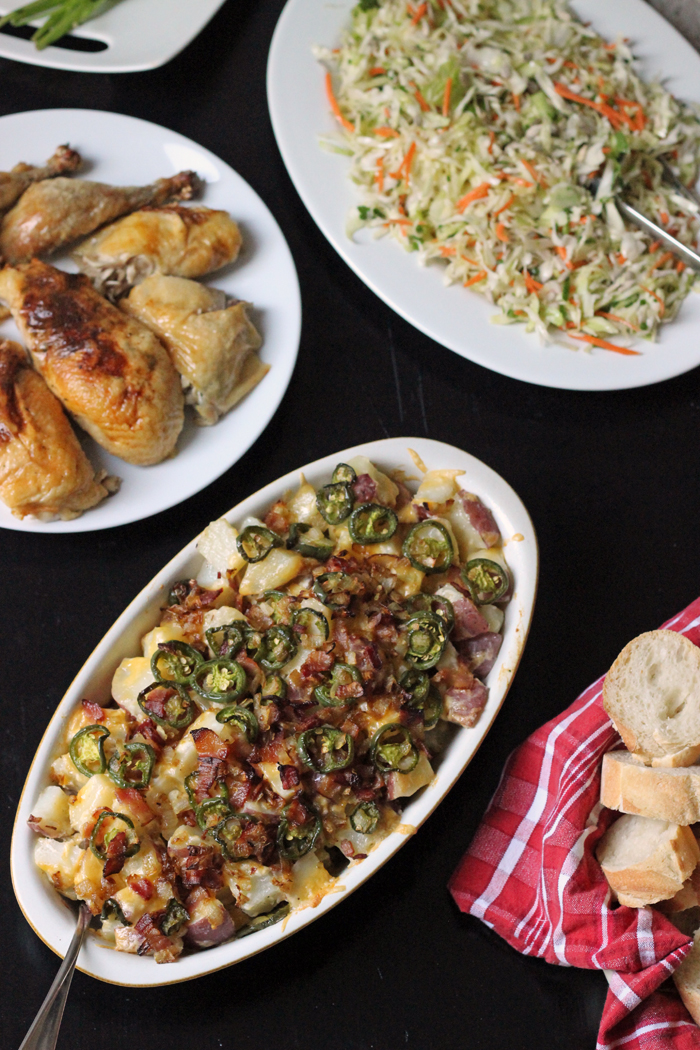 How I make this good and cheap:
Here are some of the strategies I use to make this recipe more economical:
Track prices and shop the lowest store. This year I've paid more attention to which stores have the lowest prices. Where I live, ALDI has the best price on potatoes, so I try to buy them there if I can't find a sale price elsewhere.
Stock up on sales. I'm a little picky about which sour cream and cheddar cheese I buy, so I watch for sales and stock up when it's a good price. Same goes for bacon. I like uncured over conventional, so I watch patiently and then clear the shelves. Kidding. Sort of.
Tools I use to make this recipe easy:
Having the right kitchen tools can really make your time in the kitchen more enjoyable. Over time, I've honed my collection so that they are perfect for my needs. Here are the tools that I like to use in this recipe.
This post contains affiliate links. When you make a purchase through those links, I am paid a small amount in advertising fees. Thanks for your support. I really appreciate it.
Jalapeno Popper Potatoes
What happens when you combine Jalapeno Poppers with Potato Skins? You get these amazingly good Jalapeno Popper Potatoes, the perfect side dish for any occasion.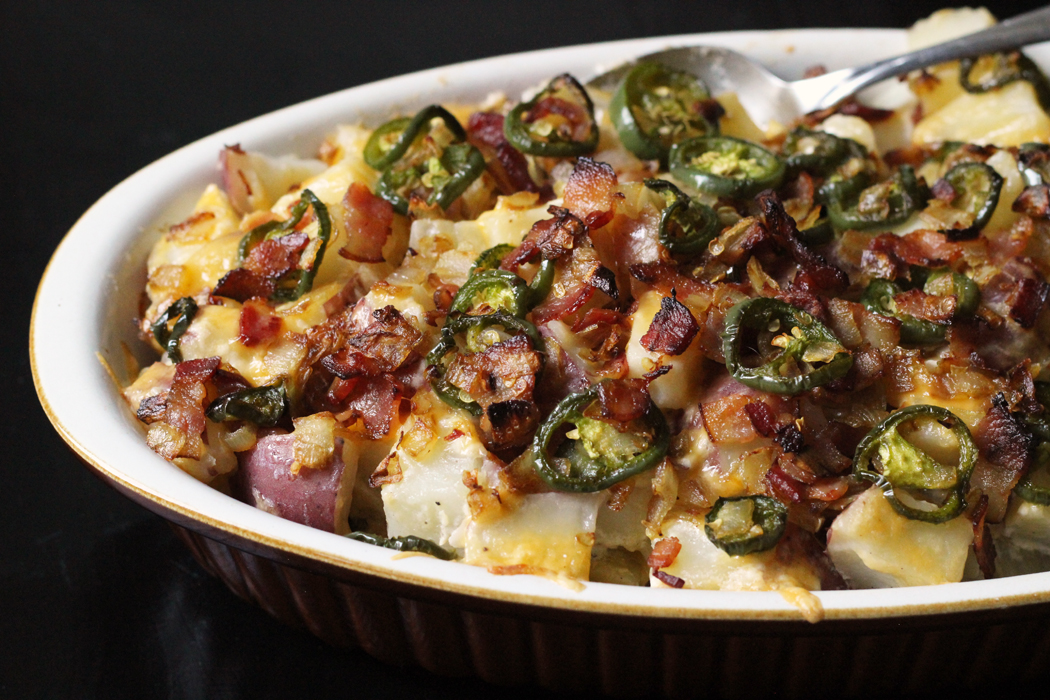 Preparation Time: 10 minutes
Cook time: 45 minutes
Total time: 55 minutes
8 servings
Ingredients:
3 slices bacon, chopped

1/2 cup chopped onion

2 to 4 jalapeno peppers, sliced

4 pounds red potatoes, scrubbed and quartered

1 cup sour cream

2 cups shredded cheddar cheese

salt and pepper
Instructions:

In a large skillet over medium heat, cook the bacon, onion and jalapenos until the bacon is crisp and the onions and peppers are tender. Drain on paper toweling and set aside.
In a large pot of boiling water, cook the potatoes until fork tender, about 20 minutes. Drain.
Preheat the oven to 350 degrees. Grease a 9×13 baking dish with nonstick cooking spray.
In a large mixing bowl combine the potatoes, sour cream, and 1 cup shredded cheese. Season to taste with salt and pepper. Spoon this mixture into the prepared baking dish.
Cover the potato mixture with the reserved cup of shredded cheese as well as the jalapeno bacon mixture.
Bake for 30 to 45 minutes or until the cheese is melted and the potatoes are hot.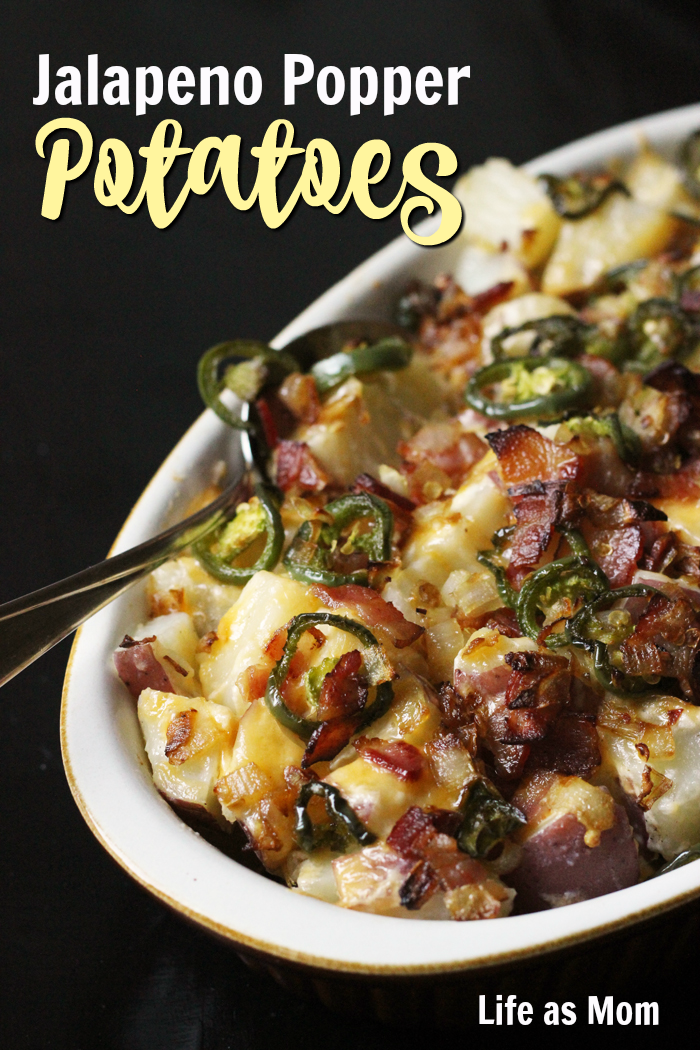 Originally published October 12, 2011. Updated July 16, 2017.