Thankfully, that is the headline that wasn't.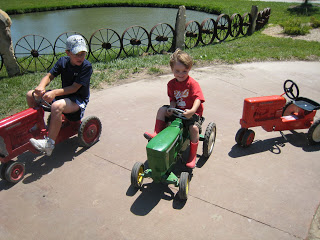 Last weekend our family headed to a local petting zoo with my dad, Grampa Jack. The park is a living history center depicting pioneer life in Kansas. It's a very cute locale with reproduction buildings and lots of playthings for the kids, like these tractor bikes.
There are lots of animals to pet or feed. There is a reproduction Kansa Indian mound. A dairy barn with milking demonstrations. And old-time fishing poles and buckets of worms.
There's also a tall barn featuring two large tube slides. Well, I'd never been up there. In the five years we've lived here, I have always relegated the toddler-chasing job to one of my bigger kids. But, seeing as I'm wanting to interact with my little ones a little more, I decided, "Why not?"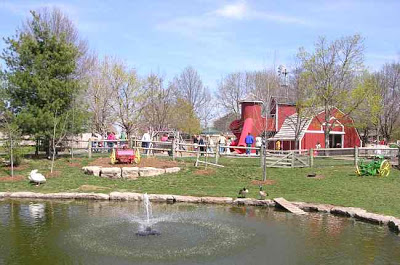 Hmmm….
Picture the scene:
Very steep stairs leading up to the barn loft. A very low ceiling in the barn loft. Obviously to discourage large people from invading a child's domain.
A very narrow walkway allowing one-way traffic only to the very narrow silo that is the launching pad to the slides.
No handrails for hanging onto as you finagle your large – very large – pregnant body into the slide. A huge line of adults and children waiting their turn, rather impatiently, for the slide. No room to back out now that you realize that you can't get into the slide.
A pudgy grampa trying to do the same thing as you – crumple your body into a ball to get positioned in the slide. But there's this beach ball attached to your tummy, so you don't crumple very well. Mild panic as you wonder how you will ever get out.
Well, the FishChick and I made it down the slide. It took some contorting of my right leg to get us both in the slide. But, we made it. My husband was waiting at the bottom, incredulous that I would even attempt it.
"I was just thinking about how all these kids would be crying when the paramedics had to use the jaws of life to cut you out of that slide."
We laughed and laughed. I was crying from laughing and trying hard not to let pregnancy incontinence get the best of me.
I tend to get myself in those kinds of predicaments.
How about you? What have you done lately that left you laughing and crying from the relief of getting out of a "tight squeeze?" Share it in the comments!