A pantry challenge is a great way to improve your family's diet and grocery budget.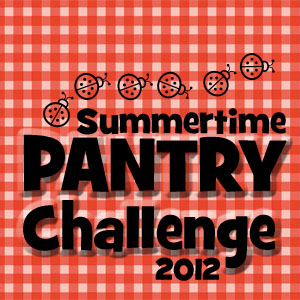 January and July are the months when I spend some time analyzing my food storage and cooking habits.
What do we have too much of?
What are we wasting money on?
How could I do better in feeding my family?
How can I be more creative in the kitchen?
I do this through a number of means, but mainly by focusing my attention on what we already have in the fridge, freezer, and pantry. This month, I'm going to make the most of what we have.
Last week I guest posted at Keeper of the Home, sharing what I consider to be the benefits of a pantry challenge.
What is a Pantry Challenge?
A pantry challenge is a focused, but limited, time to "eat from the pantry." Rather than buying groceries like I normally would, I focus on what we already have. I build my menus around the ingredients I've avoided using. Sometimes this is something cumbersome to prepare or something that I've been too lazy to be creative with. The pantry challenge helps me deal with those items — and in some cases, teaches me not to buy it again.
The Pantry Challenge party is over at Good Cheap Eats this month. I hope you'll join me for daily updates on what I'm actually feeding my family as well as a weekly check-in for other participants.
Come see what my goals are this month and share your own challenges or hopes for improving your family's diet and grocery spending.