Join the Spring Clean Along!
We are a participant in the Amazon Services LLC Associates Program, an affiliate advertising program designed to provide a means for us to earn fees by linking to Amazon.com and affiliated sites. We participate in other affiliate programs as well. For more details, please see our disclosure policy.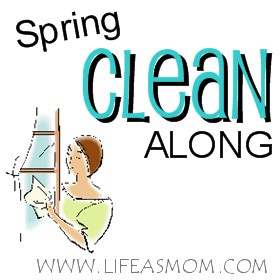 April is here and so is Spring. The sun has started to shine a little more often, birds are singing, the air feels crisp and the sunshine warm. After a long, cold winter, this fresh start is exhilarating.
However, what lurks in your home behind closed doors? Dust bunnies? Musty smells? A few piles of junk that got stashed out of site for the Holidays and have yet to see the light of day?
Sounds like it's time for some Spring Cleaning!
"Spring Cleaning" conjures up different images for different folks. For some it may mean a complete overhaul of the home, washing and dusting everything in sight from ceiling fan to baseboard. For others it means digging out of some messes and dejunking winter's accumulation of "stuff." Still others turn to organizing, simplifying, and freshening the looks of their homes as a way to shake off the winter grunge.
Whatever you think about "Spring Cleaning," the fresh start we feel when the seasons change is a great thing to apply to our homes: to make them more inviting for guests as well as inhabitants.
Even though our family doesn't experience a true winter in San Diego, the coming of Spring signifies longer days of sunshine and more opportunity for our family to do things out of doors. That means that FishPapa and I don't want to be weighed down by home-work when we could be out exploring with our peeps. This, in turn, motivates us to make some changes around the house and to look at the different aspects of "spring cleaning."
Three Important Aspects of "Spring Cleaning"

Dejunking – getting rid of stuff you no longer want or need

Organizing – storing the keepers together in ways that make them easy to find, use, and put away

Cleaning – giving your home a good, deep scrubbing to get rid of accumulated dust, dirt, and grime
My husband has been valiantly leading the charge against clutter in the garage these past few weeks, and I've been inspired by his example. (He's also gone way out of his way to make sure I didn't feel responsible for the junk that mde its way there, something I am apt to do — send junk that way and feel guilty about it.)
Instead, I've turned my attention to three main problem areas in our home, places that are generally messy or places that I avoid like the plague, and have been thinking about some solutions. So, I'm going to work on those and I'll share whatever progress I make along the way.
Wanna clean along?
Some readers on Facebook inspired me to start a Spring Clean-Along. We're going to tackle three zones in three weeks. You choose what you're going to do and how. Each Monday in April I'll provide the linkies and hopefully some inspiration and motivation to get the job done. There will be discussion over on this Facebook Event page as well.
(Disclaimer: I am the blind leading the blind here as I am a foodie, not a "cleanie," but I do love a clean and organized home.)
Are you in? Leave a comment and let us know how you hope to make things ship shape this month!