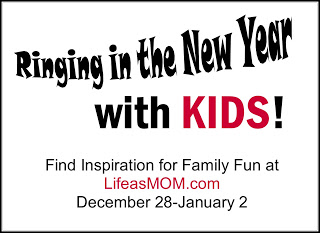 Things may be quiet elsewhere in the blogosphere, but creative wheels are turning here at Life as MOM. Thanks to Amy from The Finer Things in Life and Kate from A Simple Walk, I've got a week's worth of holiday fun lined up. The parties just never end, do they?
This week we're going to look at ways to Ring in the New Year — with KIDS! For some it's a season of ball gowns and fancy parties. But, for our family, we like to celebrate in different ways. Kid-friendly ways.
Join us this week as we look at the different elements that go into welcoming 2009:
Monday – Kid-Friendly Feasts, hosted by Yours Truly. I'll share some yummy food ideas for your NY Eve and Day gatherings.
Tuesday – Visit Amy's place for her suggestions on family entertainment.
Wednesday – Kate will give us creative ideas for making decorations and crafts with the kids.
Thursday – Happy New Year! Enjoy your day with the fam! And make sure to take lots of pictures.
Friday – Post about how you said, "Farewell 2008! Hello 2009!" We'll have Mr. Linky up and running for you to share all the great ways you rang in the New Year — with kids. There's a great giveaway in store for whoever participates.