Join Us This Week
We are a participant in the Amazon Services LLC Associates Program, an affiliate advertising program designed to provide a means for us to earn fees by linking to Amazon.com and affiliated sites. We participate in other affiliate programs as well. For more details, please see our disclosure policy.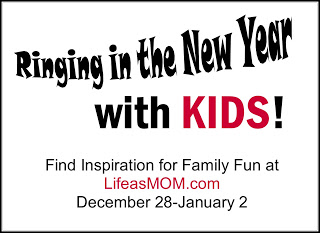 Things may be quiet elsewhere in the blogosphere, but creative wheels are turning here at Life as MOM. Thanks to Amy from The Finer Things in Life and Kate from A Simple Walk, I've got a week's worth of holiday fun lined up. The parties just never end, do they?
This week we're going to look at ways to Ring in the New Year — with KIDS! For some it's a season of ball gowns and fancy parties. But, for our family, we like to celebrate in different ways. Kid-friendly ways.
Join us this week as we look at the different elements that go into welcoming 2009:
Monday – Kid-Friendly Feasts, hosted by Yours Truly. I'll share some yummy food ideas for your NY Eve and Day gatherings.
Tuesday – Visit Amy's place for her suggestions on family entertainment.
Wednesday – Kate will give us creative ideas for making decorations and crafts with the kids.
Thursday – Happy New Year! Enjoy your day with the fam! And make sure to take lots of pictures.
Friday – Post about how you said, "Farewell 2008! Hello 2009!" We'll have Mr. Linky up and running for you to share all the great ways you rang in the New Year — with kids. There's a great giveaway in store for whoever participates.