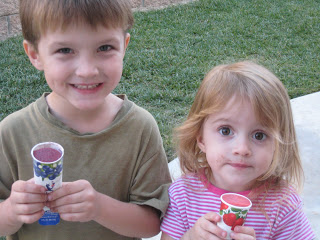 THIS GIVEAWAY IS NOW CLOSED. CONGRATS TO OUR WINNER, MOLLIE!
Frozen treats go pretty quickly at our house. It wasn't too many months ago that I stocked up on 6 or 7 "sorta half-gallons" of ice cream. We're down to the last one or two. Even when the weather has got a little chill to it, it's fun to enjoy a cool, sweet treat. So, how could I turn up a chance for our family to try Jolly Llama Squeezable Sorbets. I'd never heard of the product, but it sounded really interesting.
While I'm not the most "nutritious and delicious" of moms, I do try to limit the amount of junk my kids consume. So, what attracted me to test these sorbets were that they were just a little bit healthier than the average frozen dessert. I know, I know, high-fructose corn syrup in moderation is fine. But, give me plain ol' sugar any day.
Here's some info from the company: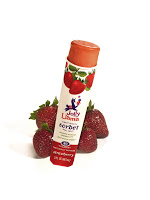 Jolly Llama Squeezable Sorbets at a glance:


— they come in fun-to-eat individual 3 oz. squeeze-up tubes
— all natural (no genetically modified corn sweeteners)
— low in fat and average just 75 calories per serving
— high in fiber and vitamins A & C
— four flavors: strawberry, mango, acai, blueberry
— available nationwide for home delivery thru the company's website
— currently in grocery stores throughout the Western US


All-natural sorbets in individual 3 oz. squeeze-up tubes are new from Jolly Llama LLC. The premium whole fruit frozen novelties come in four flavors (strawberry, blueberry, acai, and mango) and are naturally sweetened with pure cane sugar. Averaging just 75 calories per tube, they're low in fat, dairy and allergen-free, and fortified with Vitamins A & C and natural fiber. The Acai flavor is rich in antioxidants. Introduced in July, Jolly Llama Sorbets are now available in stores throughout the West and nationwide through the San Francisco-based company's website (www.jollyllamasorbets.com). Currently sold individually, the suggested retail price of each tube is $1.69. A 4-pack box will be introduced shortly.


"We created Jolly Llama to be all-natural frozen novelties that people can feel great about enjoying," said President Scott Jacobson "They've been an instant hit with both grown-ups and kids because they taste great and are fun to eat."
The FishFam received an assortment of the four flavors shipped to the house. How fun to have the UPS man bring a big box, with a cooler inside, with dry ice and two dozen sorbets! The packaging was super cool — literally. The sorbets were hard as rock. I was impressed that they would make an excellent splurge as a Christmas gift for someone.
Everyone in the family has tasted several flavors, and all the kids and FishPapa gave Jolly Llama a thumbs up. If you're looking for a sweet-tart dessert, this probably isn't it. The two flavors I tried, mango and acai berry, were quite sweet. A little too much for my tastes, but that's okay. I need to fit into the magical capris.
Regardless, Jolly Llama Sorbets were most definitely, FishKid-tested, FishMama-approved.
Would you like to try them too? How about winning some?
Jolly Llama is giving away a 24-piece case of one flavor to one winner this week. Giveaway will be open until Sunday night at 8 pm PST. Make sure that you leave an email address or other method of contact. There are three ways to enter:
1. Leave a comment telling us your favorite flavor: blueberry, acai, mango, or strawberry.
2. Follow me on Twitter. Leave another comment telling me you did so. (New followers only, please.)
3. Post about this giveaway or Tweet it and bring the link back here.
I hope you win!
Disclosure: I received a complimentary case of sorbets so that my family could taste them in order for me to offer my feedback to my readers. I've offered my honest opinion of this product.
Encouraged by what you've read? Subscribe to LifeasMOM by email or in a reader and join me on the Road to Joyful Motherhood.