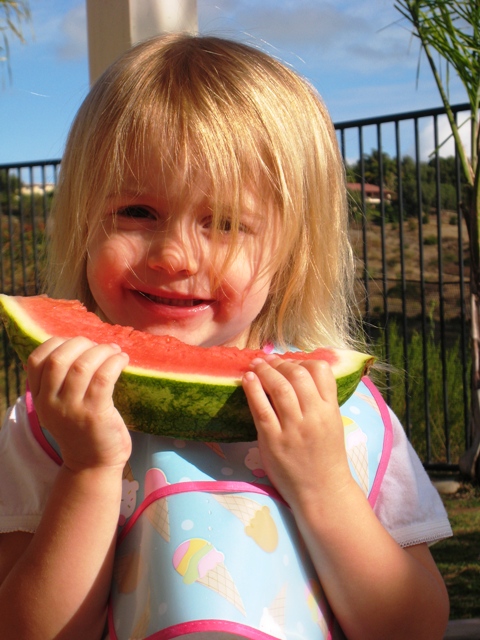 July is already here! How did that happen? The summer is just flying.
This past weekend I spent about thirty minutes planning our meals for the month. I've found that taking the long view of things really helps me save time and money and a few brain cells. I know what we have, I make mental notes of what I might want to buy if I see a good sale, and I have a plan.
My 3-Step Guide to Planning Thirty Meals
Print a calendar and mark any special events. Three orthodontia/dental procedures are as special as it gets this month. Soft food is on the menu!
Survey what's in the freezer and plot those on the calendar. I found quite a lot of pasta sauce!
Consider what to add during this week's freezer cooking. Knowing what uncooked meats I've stockpiled in the freezer and what is currently on sale helps determine what other meals we'll have throughout the month.

What's Cooking at Our House in July
5. Grilled Chicken Breast, Rice Pilaf, Green Salad
6. Fish Tacos
7. Meatloaf and Mashed Potatoes and Gravy , Steamed Broccoli
8. Chicken Chile Tortilla Casserole
9. Free Chick-Fil-A! We're dressing like cows!
10. Hamburgers, Chips, Veggies, and Dip
11. Grilled Tri-Tip, Baked Potatoes, Green Salad
12. Pasta with Meat Sauce, Steamed Veggies, Garlic Bread
13. Tacos, Beans, and Rice
14. Grilled Chicken, Pasta Salad, Fresh Fruit
15. Queso Fundido, Corn Tortillas, Green Salad
16. Pizza Night
17.Chicken Tacos, Beans, Green Salad
18. Hamburgers, Potato Salad, Fruit
19. Chicken Enchiladas, Beans, Rice, Green Salad
20. Pasta with Meat Sauce, Green Salad, Corn Bread
21. Chimichangas, Fruit
22. Grilled Chicken, Black Bean and Rice Salad, Veggies
23. Pizza Night
24. Chili Dogs, Veggies and Dip
25. Tacos
26. Beans and Rice
27. Chicken Caesar Salad, Garlic Bread
28. Grilled Tri-Tip, Potato Salad, Fruit Salad
29. Pasta with Meat Sauce, Green Salad, Biscuits
30. Chili and Cornbread, Veggies and Dip
31. Pizza Night
What's cooking at your house?