June Booking It: Reviews of The Monuments Men, Dear Mr. Knightley, & Anatole
As an Amazon Associate I earn from qualifying purchases. For more details, please see our disclosure policy.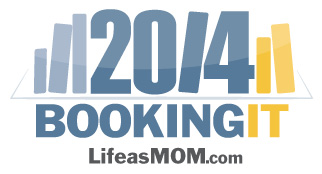 Booking It is an online book club where we share the good reads we've found in the previous month. We've found that over the years we've discovered some great new books thanks to this monthly book share. Carrie and Anne are my fellow bookworms and help round out the selections.
Jessica read: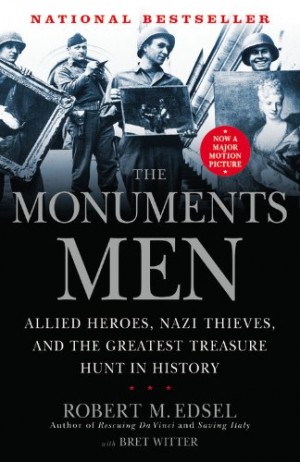 by Robert M Edsel
I think I first heard about The Monuments Men when Anne posted a link on her Facebook page for an article about books you should read before you see the movie. I scanned through the list and requested the books that sounded interesting. This was one of them. Then, Carrie reviewed it in March.
I decided it was time to get it read, especially in light of the facts that we will be in Europe this fall AND studying World War II next year. I, too, loved this book. While it was a bit tough to keep some of the minor characters straight in my head, I loved this look into a past I knew nothing about. It was so fascinating to me this desire to save culture and history in a world ripped apart by war.
One passage stood out to me:
To save the culture of your allies is a small thing. To cherish the culture of your enemy, to risk your life and the life of other men to save it, to give it all back to them as soon as the battle was won… it was unheard of, but that is exactly what Walker Hancock and the other Monuments Men intended to do.
This is a moving, heartbreaking, horrifying, inspiring story of good triumphing over evil. Totally worth the read. I ended up buying it on Kindle once my library renews on the digital version were all used up. I was thrilled when we saw two paintings recovered by the Monuments Men on a recent trip to the art museum. I'm waiting for the elder FishBoys to hurry up and finish so we can watch the movie — and bash it for being totally different than the book.
Carrie read: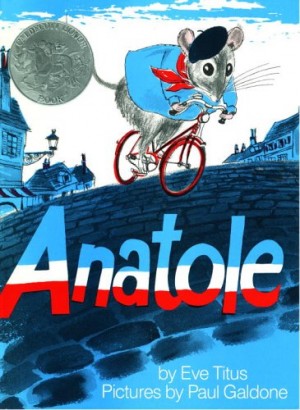 by Eve Titus
As strange as it may seem, the one childless woman of this trio is recommending children's books this month! After discovering my inner-francophile earlier this year, I've been on a French book reading binge. It doesn't matter if it's a historical biography, the foodie tale of an American in Paris, or, as in this case, a children's picture book about a tiny French mouse who is out to earn a living as a cheese taster.
To be honest, I'm not sure where I first stumbled onto this series (I think it was one of those Amazon, "hey, if you liked this book, you might also enjoy" things). At any rate, outside of the original Anatole story, most of the books in this series by Eve Titus are out of print, but you can still find them used, though prices vary. There are 10 books in all, and I have now read and collected six of them. Adorable stories, cute mice, and family ethics gently woven in. If you're tired of reading Dr. Seuss night after night, I highly recommend looking for these to add to your collection!
Anne read:
by Katherine Reay
Dear Mr. Knightley came out last November, and people have been recommending it to me left and right ever since. (That will happen if your blog name contains a Jane Austen reference.) But I've been putting it off, because I've never had much luck with fan fiction.
I needn't have, because that's not at all what this book is about. In fact, it's a modernized version of an altogether different classic, Daddy-Long-Legs. Samantha is a troubled but promising twentysomething who grew up in the foster care system, and who has scored a major scholarship-of-sorts to attend a prestigious journalism school, on one condition: she must write letters to her donor, who uses the pseudonym Mr. Knightley so as to remain anonymous.
With its whimsical title and lighthearted cover, this book surprised me with its depth. Now I'm very much looking forward to Reay's next book, Lizzy and Jane, coming this October.
What have you been reading?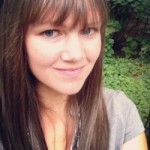 – Anne loves strong coffee, long books, and big ideas. She puts a timely spin on timeless women's issues at her blog Modern Mrs Darcy.
For more of Anne's book recommendations, check out her new 2014 summer reading guide here to find out which breezy novels, nerdy nonfiction, and gripping books are best for the beach this year—or your own backyard.
– Carrie adores culture, coffee, books, British mystery shows, Parisian cafés, and her husband of 14 years. She's spent time in Africa, southeast Asia, and Alaska, and now works from home as a social media book launch project manager.
In her spare time, you can find her blogging at Carrie's Busy Nothings.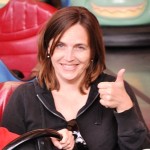 – Jessica is a married mom of six kids, aged 5 to 17. Most can read independently which means the homeschool experiment is working – at least on the literacy front.
She has been a lover of books for 40 years and counting. We won't count the first year of life. She runs this here show called Life as MOM and also posts all the food things over at Good Cheap Eats.
Tell us what YOU'VE been reading.
Leave a comment or a link below. Please be sure to link back here so your readers know where to find the party. Share your recent book reviews with us!