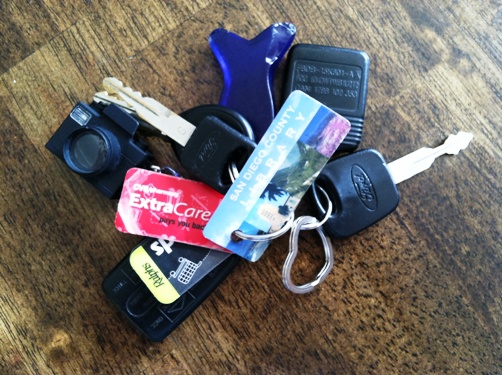 As queen of my castle, I am responsible for procuring all the necessary supplies and provisions to keep my palace and the royal family in good health . One of the things that helps me do this and stay within our budget is to shop at CVS. Their customer loyalty program is one of the best I've ever seen. And, believe me, they are making me loyal. You can bet any FishFam prescriptions will be filled there, rather than the "other" drugstore around the corner.
Last month I posted a primer explaining how to make the most of CVS's May advertised specials. By popular demand, I have prepared a "primer" for some of the products advertised in June's Extra Care Book.
You will not need to clip any coupons, but your savings would be much greater if you did. Check Money Saving Mom frequently. She is expert at giving heads' up about specials and coupons. I learned (almost) everything I know from her. You can obtain coupons by purchasing the Sunday paper, getting friends' old copies, or printing manufacturer coupons as available. Check the coupons database at Hot Coupon World for the latest info about what coupons are out there.
1. Go to CVS.
2. Sign up for an Extra Care card if you don't already have one.
3. Pick up a weekly ad and the June Extra Care Book.
4. Purchase the following and make sure you use your new Extra Care card and have them run it before they run the items. Don't forget to double check the ad with the items to make sure you got the right brand, style, and size:
Oral B Cross-Action 2 pk $6.99
Listerine Smart Rinse $3.49
(2)CVS bandages @1.99 = $3.98
This should total $14.46 + tax
Get back ECBs for $6.99, $3.49, and $3.98
So, you've paid out $14.46 (+tax) and received back $14.46 in ECBs which are good for about a month's time. Don't lose them!
Now, you could go back some other time in the month of June and buy the following:
another Oral B Cross-Action 2 pk $6.99
another Listerine Smart Rinse $3.49
4 Balance bars @1.50 = 6.00
This should total $16.48
You'll hand over your $14.46 in ECBs and pay the remaining $2.02 and the applicable tax.
You will get back in ECBs $6.99, $3.49, and $3.00
You had an initial $14.46 investment plus the additional $2.02 + tax, totalling $16.48 out of pocket, but you still have $13.48 to spend at CVS. All those items only "cost" you $3.00 + tax!
Now, don't you just love CVS?
Updated: As Jen reports in the comments section, there is a new $3/15 coupon available. MoneySavingMom has the scoop right here. So, should you choose to redeem this coupon, you will greatly reduce your out of pocket expenses in the above scenarios.

Trip #1:
You will need to add a "filler" to get your pre-tax total up to $15. (I would get a can of tuna for 66 cents. This is a great deal on its own.)

Your total would be $15.12
Minus the $3 coupon.
You would pay $12.12 plus tax and receive $14.46 back in ECBs.

Trip #2: Again you will need to add a "filler" worth $1. Make sure it's something you will use!The total in that transacation should be $17.48 + tax.
Minus the $3 coupon = 14.48
Pay with your $14.46 ECBs.
Pay the remaining $.02 and applicable tax.

Using the coupon, you would pay out 12.14 + tax and get back $13.48 back in ECBs. With savvy coupon usage, you will get more stuff, pay less out of pocket, and make a "profit" in CVS money!