June Freezer Cooking Days
We are a participant in the Amazon Services LLC Associates Program, an affiliate advertising program designed to provide a means for us to earn fees by linking to Amazon.com and affiliated sites. We participate in other affiliate programs as well. For more details, please see our disclosure policy.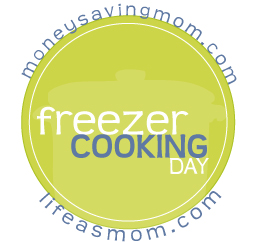 Freezer Cooking Days are here again! Mark your calendars for Friday, June 4 through Monday, June 7 'cause we'll be cooking up a storm.
I can't wait to get back to cooking! Some of my experiments of last month, like Stuffed Chicken Breasts, Garlic Bread and Chicken Bacon Subs were a big hit, so I'll be doing that again. Plus, I'll be testing out some new recipes on the fly. Here's my freezer cooking plan for this month in case you're wondering what's going on at my kitchen.
I hope you'll join me!
I'll be sharing a Freezer Cooking Q & A on Thursday. Come share your cooking plan here at LifeasMOM on Friday afternoon. (There won't be a link-up at MoneySavingMom this time around as Crystal will be at a conference that weekend.) Cook when you want and then come back to share your accomplishments on Monday afternoon. Can't wait to be inspired by what you cook up!
If you're just tuning in, you may be wondering, "What in the WORLD is freezer cooking?!"
Freezer cooking is the practice of preparing many meals ahead of time and stashing them in the freezer for use later in the month. The original Once-A-Month-Cooking method, designed by MaryBeth Lagerborg and Mimi Wilson, entailed preparing 30 meals at one time.
I've tweaked that original approach to suit my family's needs and to encompass make-ahead breakfast, lunch, and dinner, as well as meal components, like pizza breads or shredded chicken, time-consuming parts of a meal that when made ahead of time can make dinner prep a snap.
Cooking in bulk can save you time, money, and energy — natural energy as well as your own. And as Crystal points out, one of the benefits of freezer cooking is that you make one big mess and then don't have much kitchen clean-up the rest of the month. Can I get an Amen to that?!
Learn all you can about freezer cooking by visiting these select posts. You'll be glad you did. And don't hesitate to ask questions.
Are you in?