Just Be You
We are a participant in the Amazon Services LLC Associates Program, an affiliate advertising program designed to provide a means for us to earn fees by linking to Amazon.com and affiliated sites. We participate in other affiliate programs as well. For more details, please see our disclosure policy.
Feel right in your skin. Be you. It won't cost you a dime.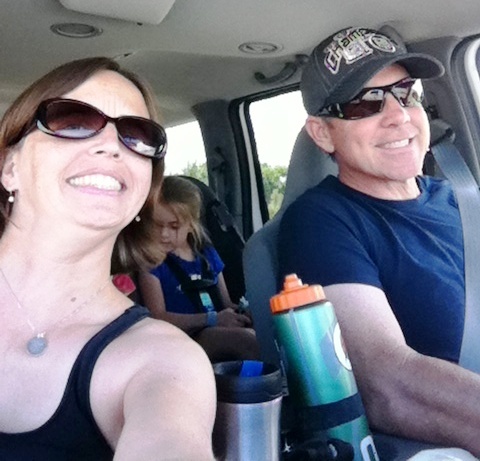 In our culture, we spend a lot of time and money trying to be that which we're not. I imagine that between the make-up, the surgeries, the weight loss programs, and the self-help industries, we spend a lot of time, money, and mental energy trying to change ourselves.
Now, I'm not against change. I think I have a lot of weaknesses, even sinful tendencies, that could do with a good dose of change. Change, in many instances, is very, very good.
There are other areas, though, where we fret and worry and try to be somebody we're not. We feel pressure to keep up with the Joneses, to become the Hostess with the Mostest, to outdo someone on the Church or School Committee.
And yet, we'll save a lot of money — and a few worry lines — if we accept some of our own innate personality traits and preferences.
I don't love sports. I don't wear make-up. And I think that Pumpkin Spice Lattes sound (and taste) gross. Athletic clothes, excessive make-up purchases and PSLs are just not how I spend my money.
I don't like lying or being lied to, so I keep my social circle small. I've been burned before, in part, because I tried to fit someone else's mold of how I should dress, think, or ask. It was a costly mistake, but one I've learned quite a bit from.
I don't have to pretend. I can be me. Being me doesn't cost anything. I'd have to pay a price to be somebody else. And I'm not sure it's worth it.
Being me is a great way to stop and smell the roses.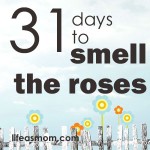 The days are long, but the years are short. I don't want to miss them! For more short and sweet ideas on how to stop and smell the roses, to enjoy the little things in life, check out my 31 Days to Smell the Roses series.
Don't miss a post in this series. Subscribe to 31 Days to Smell the Roses by RSS or email.
I'm combining my 31 Days and Frugal Friday posts today. Got a money-saving idea? We'd love to hear it!
Today's Frugal Friday!
Time to swap ideas and inspiration for saving money and getting good values.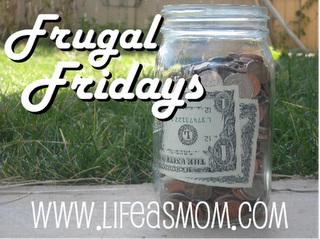 How do YOU save money?
Please remember to follow the Frugal Friday Guidelines or be deleted.
Post a money saving idea and explain how it is helpful in your post.
No giveaways or deals posts.
Recipes are allowed, but you must explain how it saves people money.
Please include a link back to Life as MOM.