Just Sit Still
We are a participant in the Amazon Services LLC Associates Program, an affiliate advertising program designed to provide a means for us to earn fees by linking to Amazon.com and affiliated sites. We participate in other affiliate programs as well. For more details, please see our disclosure policy.

Today wraps up 31 days of stopping to smell the roses. You can read past posts here. I don't know about you, but I'm encouraged to make sure I know what the big rocks are and to put them in first.
This series has been full of teachable moments for me. I've been reminded that it's okay to just sit. To sit still and not worry about what I should be doing helps me be engaged with my family and friends, helps me to take a step back from the rush of life, helps me to remember what's important.
Just to sit and soak up the moment is probably the sure-fire best way to stop and smell the roses.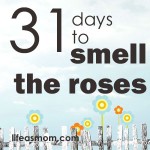 The days are long, but the years are short. I don't want to miss them! For more short and sweet ideas on how to stop and smell the roses, to enjoy the little things in life, check out my 31 Days to Smell the Roses series.
Don't miss a post in this series. Subscribe to 31 Days to Smell the Roses by RSS or email.