Recently Kaboom and OxiClean contacted me and asked if the FishFam would like to try out some of their products. With six kids, a crawling baby, and lots of dirt, you know I said, "Absolutely!" I received the following products to sample: Kaboom Foam-tastic, a Kaboom Scrub Free! Toilet System, OxiClean Baby Stain Remover and OxiClean Baby Stain Soaker.
My favorite is the Foamtastic. A few weeks ago my sister and I were facing the tiresome job of scrubbing down the kitchen of the old house. We pulled out the Foamtastic and painted the room BLUE! It's true. The foam comes out blue (Think Violet Beauregarde from Charlie and the Chocolate Factory.) After a few minutes the foam turned white to demonstrate that it had done its job. We were able at that point to very easily wipe away grease and grime and to loosen any gunk that might have been hiding in the grout. It's almost a self-cleaning kitchen — almost!
I hate tile, but having Foamtastic has made tile a little more tolerable!
Today's giveaway is sponsored by Church & Dwight, the makers of OxiClean, Kaboom, and Arm & Hammer. Two winners will each receive an OxiClean Baby Care Kit, retail value $19.99.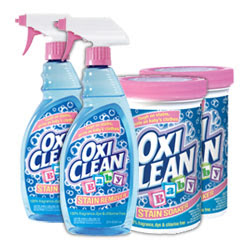 Again, there are three ways to enter:
1. Leave a comment here telling us about your greatest cleaning challenge.
2. Leave a second comment telling me what you think is my greatest cleaning challenge.
3. Tweet this giveaway on twitter – make sure you use @fishmama – and leave a third comment telling me you did so.
Comments left between now and Sunday night, 8 pm, PST, will be eligible for winning. Winners will be chosen at random and announced sometime next week. Please make sure that you leave a way for me to contact you in case you win.
*Disclosure: I received the previously mentioned cleaning products for free in order to try the product and offer my readers our family's first hand experiences. I was compensated in no way other than free samples.