The following content is sponsored by New York Life Insurance: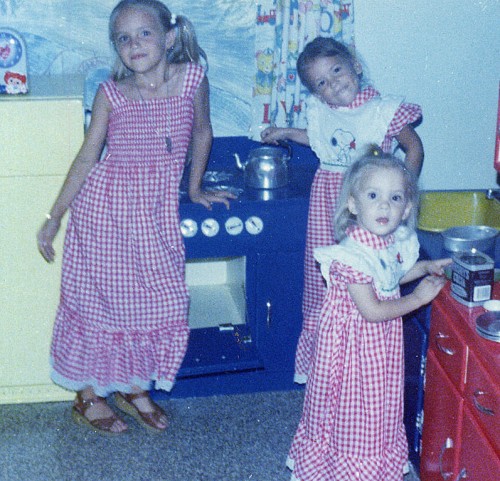 Families are complex. You can start from the same gene pool, grow up in the same household, and end up in different spots later in life. My two sisters and I started life together in a small little house on Alaminos Drive. Our mom dressed us alike for far longer than I would have liked. We ate the same foods and played the same games. Two of us almost always shared a room.
Today we live in three different cities with very different lives. Jamie won't eat anything with mayonnaise or sour cream, owns a menagerie of pets, and has a great sense of style. Janel has an exact way of measuring her coffee each morning, volunteers at her kids' school faithfully each week, and has an impeccable attention to detail. I fly by the seat of my pants while I homeschool a small army of children.
We don't dress alike anymore, and we may differ on our color of nail polish, flavor of ice cream, or the way we style our hair. Yet, the things that are most important are the ways that we are alike:
We love family and each other.
We love good food.
We love to be surrounded by beautiful things.
We love to laugh together.
My sisters, though younger than I, inspire me to be a better me. They show me that it's okay (yea, even better) not to do exactly what big sister does, but to forge new paths and find what suits one best. I love that about them.
New York Life Insurance has put together a series of videos that focus on family and the beautiful experiences and characteristics of each one. I love the one of the mom, daughter, and grandmother who wore the same wedding dress and got married on the same day of the year. Sweet.
This one called, "My Father's Footsteps" is a great illustration of that concept.
Like the men in the film, my sisters and I have our share of differences, but I'm most proud of our similarities. That's how we keep good going.
Follow the hashtag #KeepGoodGoing and @NewYorkLife on twitter to be reminded of more good things.
What life lessons have your family taught you?
Disclosure: I've been compensated for my time spent writing. All opinions are my own.