Keep the Laundry Room Clean! (Zone Defense)
As an Amazon Associate I earn from qualifying purchases. For more details, please see our disclosure policy.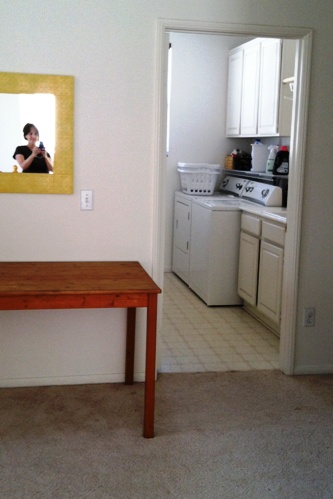 THIS makes me happy. It gives me the feeling that at least somewhere in my house is peace and order. Forget the fact that my office is buried in piles. I can just go to the laundry room and gaze on clean surfaces.
Since I came up with my new laundry system, the laundry area doesn't always look like this. But, we're getting more like this. More of the time.
As I explained to the kids, the laundry room is for getting things cleaned. It's not a depository for dirty stuff. It's going to take awhile to get it like this all the time, but I'm encouraged that we're moving in the right direction.
So, this month's Zone Defense assignment was to clean and organize your linen cupboard and laundry area. I know. Not everyone has a laundry room. But, you might have somewhere to store laundry supplies and do the wash. This month we're getting it cleaned up!
If you go to the laundromat, I imagine that you have some system to organize and transport all the laundry. Hopefully, you had a chance to revisit that system and make sure it's working for you.
So, you saw my before pictures. Go here for another gander. Here are my AFTER photos: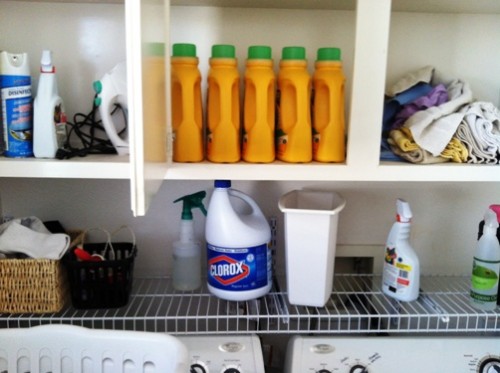 Laundry Room Cupboards
It looks kinda cluttery with everything open, but once it's shut, it's all fine. Extra supplies and cleaning rags go in the cupboards. The top shelves are empty. I'm too short to reach them, anyway.
Hubs added that shelf since last year. There's a basket for wayward socks, a basket for random laundry tools, and then the laundry supplies and wastebasket.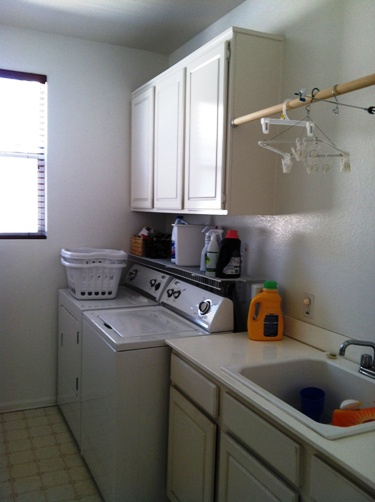 Laundry Room
I don't use the sink. I don't care about pre-soaking. I know, scandalous. If I had a baby in diapers, I'd be thrilled with that sink. But, I don't so I use it as storage for cleaning supplies.
Hubs added the hanging bar since last year also. The room hasn't changed a ton, but it feels a lot less cluttery than it used to.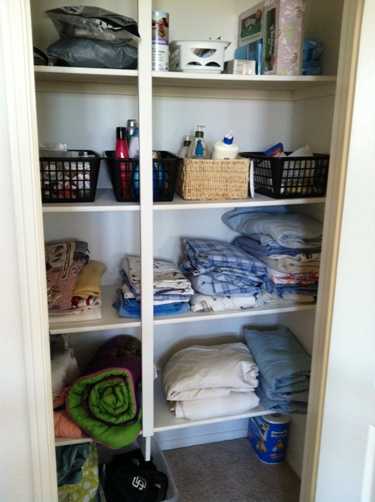 The Linen Closet
I refolded every sheet and blanket that was trying to escape, dumping a bunch of random stuff that gotten stashed in here, and otherwise set the room to rights.
You can tell it's the end of the month since we're done to one package of TP. I get it on Amazon via Subscribe and Save with the idea that we'll never run out. But, 2 months is too long between deliveries. Need to do some troubleshooting with that system, apparently.
Yay! Those areas are clean and tidy and we've got a system to manage the laundry beast.
How did Zone Defense go for YOU this month?
Share how you tackled this zone of life at your house in the comments section. If you posted about it, feel free to leave your link.