I've never been one to own things that I was worried about being stolen, unless, of course, it was one of my children.
Most of our physical belongings have more sentimental value than they do anything else. But, quite honestly, I've been remiss in protecting those things.
For years I was clueless that bugs could damage the Christmas stockings that my mom has handknit for my family. I stored them rather casually in the attic — until she found out. Now, they're stored safely in a cedar chest, protected from moths and bugs.
I don't backup our family photos as often as I should. Yet, I would be heartbroken if we lost the last ten years of pictures. Likewise, I'm not all that diligent about backing up computer files or other important documents.
While we don't live in tornado or hurricane country, we are susceptible to fire, flood, and earthquake. And the idea of losing those things that have sentimental value is daunting. We've all known someone that it's happened to, yet tend to think it won't happen to us.
Keeping Valuables Safe in an Emergency
Today's giveaway speaks to this desire to keep valuables safe in an emergency. Sentry Safes recently sent us a Big Bolt Safe to review. I've never considered owning a safe, but once I thought about it, it was an interesting prospect, even if you don't own property that someone would want to steal.
Here are some of the characteristics of the Big Bolt safe that stand out to me:
Advanced fire protection – UL Classified for Fire Endurance (1 hour at 1700˚F/927˚C), to protect documents, records, and valuables stored inside from fire damage
ETL Verified water resistance up to 8 inches for 24 hours
L Verified for 1 hour fire protection of CDs, DVDs, Memory Sticks and USB Drives up to 1700˚F/927˚C to protect precious media in the event of a fire
Plus, it's pretty hard to break into, so if you do own diamonds and gold, they're protected.
While I know that fire and flood are not huge risks, it doesn't hurt to be prepared. And storing back ups of important documents, records, and digital storage devices is one great way to make life on the other side of an emergency go a little more smoothly.
(I inquired about the length of a house fire. Typically, they are extinguished within an hour, though this can vary, depending on the situation.)
I also learned that safes are amazingly heavy. Oh my word! I can't believe the delivery man was able to carry it in. I can hardly budge it!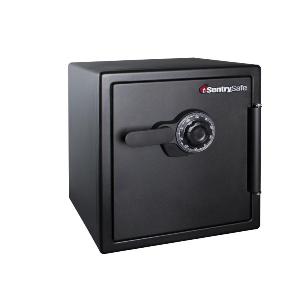 This weekend three LifeasMOM readers will each win a Sentry Safe product. Each winner will receive one of the following: a 1.2 cubic foot Big Bolt Safe, a Fire File or a Fire Chest.
To Enter

Tell us what you want to keep safe in an emergency. What would you store in a safe?
This giveaway will be open until Sunday, September 18, 2011 at 8 pm PST. Winner will be chosen at random and notified via email.
This giveaway is now closed. Congrats to the winners! Big Bolt goes to tennisluv85@; Fire File goes to klarobinson215@; Fire Chest goes to thurmans88@
Disclosure: I received a safe for review as well as compensation for time spent.