Kids Can Cook!
We are a participant in the Amazon Services LLC Associates Program, an affiliate advertising program designed to provide a means for us to earn fees by linking to Amazon.com and affiliated sites. We participate in other affiliate programs as well. For more details, please see our disclosure policy.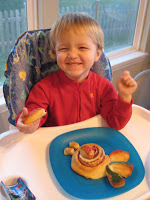 Looking for some kids-can-cook recipes for Thanksgiving? Check out my article about Turkey Day Treats at Charlotte Parent.
If you like what you see, consider purchasing my e-book, FishMama's Guide to Cooking with Children. Details are here.