Kids, Chores, and MyJobChart.com
We are a participant in the Amazon Services LLC Associates Program, an affiliate advertising program designed to provide a means for us to earn fees by linking to Amazon.com and affiliated sites. We participate in other affiliate programs as well. For more details, please see our disclosure policy.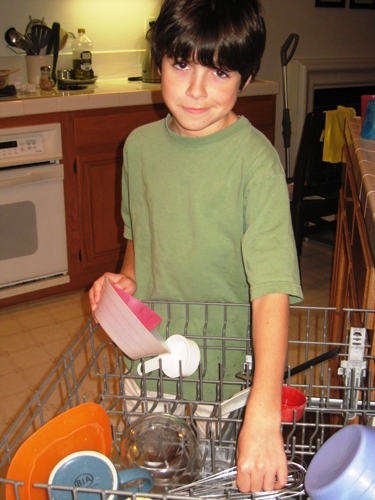 As my family has grown in size and age over the years, one of the challenges has been to make sure that I'm teaching my children responsibility as well as keeping them accountable to those tasks they've been assigned. And, boy, it's a tough job.
With my younger ones, the Morning High Five works really well. However, with my bigger kids, namely the boys, aged 13, 10, 9, and 7, they've needed a more advanced work control system. Here's why:
they have more than five chores everyday
they no longer need a cute way to memorize their jobs
they will pester me to no end about their game/computer time if I don't have an objective way to measure their work
Upon changing our pace from daily school to a more relaxed summer routine, I've introduced something new: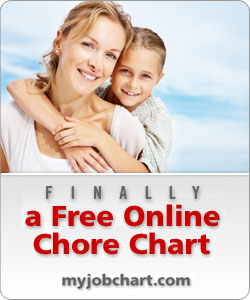 MyJobChart is a free online job chart. It's been really interesting to test it out these past few weeks. Since FishPapa works at a large facility, overseeing a crew of about a dozen guys, we've had quite a few discussions about web-based work control systems.
So, running MyJobChart through its paces has been really interesting. You can watch a video of how it works here.
Here are some of the characteristics of the service:
It's FREE!
It's ONLINE! Technology engages kids, not a chart on the wall anymore.
Easy to set up as the parent.
It's incredibly simple for kids to use.
You can set up each child's account with chores that are specific to their age andabilities.
Everything is customizable for each family. The specific chores, the prizes that will appeal to your children and even the amount of points that they will receive for each chore they complete.
It's fun!
Teaches kids how to save, share and spend.
Parents can receive an email or text when their child's chores are completed or rewardsare earned. They can then reply to this message by posting on the child's "post-it note"to positively reinforce good behavior and work ethic. MJC also has a fully integrated message board system to encourage communication between family members

In Real Life
So, let's see how each of these points works out in the FishFam.
It's free – You know I love that one.
It's online – My kids do like this element and it gives them a sense of being more grown-up. One caveat is that I've had some of my people "get distracted" and start surfing instead of working. Parental controls on the computer, of course, eliminate this temptation.
It's easy to set up – Yes, it was. It took some time as I set up four different accounts, and the guys were really eager to get started, so I had some interruptions. Of course, I didn't read any directions (I never do), but I got it figured out. So, you can totally do this, especially if you read directions.
It's simple for kids to use – Absolutely. My seven year old has no problem logging on and checking off his work.
You can give your kids age specific jobs – There is a huge list of preprogrammed chores available or you can add your own. Either way you get to assign the jobs you know your kid can handle.
Customizable – You can definitely do a lot to customize your child's job chart, including chores, rewards, and points. One thing I'm still working on is how to adjust the point system to work best for our family.
At our house, there are some jobs you just have to do because you are part of the family and there are some jobs that earn you bonus stuff (game time, money, extra privileges). My boys weren't too keen on checking off jobs that didn't "get them anything." So, I'm still testing the system to find a "point value" that works best.
Fun factor – My oldest son is not really one to say that jobs, or anything related to jobs, are fun. But, my younger boys do get a little jazzed about this job chart, particularly my to-do-list-loving, always-follows-the-rules son.
Teachable moments – Since we're still working out our points system, I'll have to report back on this point next month. But, there are options within the rewards section of the software to redeem the points, save them, or give to others.
Parent email/text – It is great accountability for me each night to receive an email showing me what work the boys have done — or at least what they've checked off. It's a daily reminder to me to make sure that I'm reinforcing that sense of responsibility that is so important to me.
While I have some ways that I need to tweak this "work control system," MyJobChart is proving to be a great start for our family getting into routines for the summer and helping me help my kids stay on track.
How do YOU keep track of chores at your house?
Disclosure: MyJobChart is an advertising sponsor of LifeasMOM this month. However, I have not been compensated to publish positive comments. All opinions are my own.