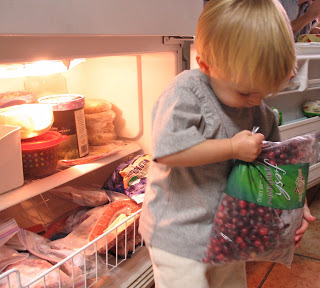 My mother-in-law was a big fan of including the kids in kitchen activities. She was always braver than most when it came to giving them jobs. And she always had a great attitude about it.

So, as I think of ways to honor her, I'm particularly pleased to have today's guest post, written by Jenna from Food with Kid Appeal. She offers some great suggestions for including your children in your kitchen tasks. And since the Holidays are a great time to invite the kids into the kitchen, I'm sure her ideas will be a great help to you in the coming days.
Even though a good chunk of my happiest memories with big boo and little boo involve eating food and preparing it — and my kids are welcome to help me in the kitchen whenever they want — I have to admit that there are times I wish they were off building Lego towers and not on their kitchen stools next to me.
They are, after all, just 2 and 4 and while big boo has improved a lot at getting most of the flour into the mixing bowl from the measuring cup, a fair amount always dusts the counter top, drawers, stool, and floor. Little Boo has probably cracked just as many eggs on the floor as he has in the mixing bowl. Then there's what big boo does to entertain himself while I'm helping little boo with his turn measuring spices. Bang, pound, smash! (Sound effects of spoon on a near-by kitchen appliance.) The worst is when they fight over whose turn it is to dump or stir, or who gets the tall stool.
Help or hinderance?
When their help turns into a hinderance, I just remind them that Mama is busy in the kitchen with her eye on hot pans, sharp knives and measuring cups. They can only be in the kitchen with me if they are helpers. If they fight or play with dry ingredients, I ask them to leave. Sometimes the fighting is a sign they are bored with kitchen help and off they go to play. Other times they refocus on cooking.
Food is one of the best ways to connect with family. Since it combines the senses of taste and smell (and touch if you are involved in preparing food) these memories often get seared in our brain and stay with us for a lifetime. Sweet memories of my grandma emerge every time I make her cornbread recipe. I get lonely for my mom when we bake the family Christmas cookie recipes. I often find myself telling stories to the boys about their grandmas, one who is no longer living, and the other who lives far away. It's a great way to connect the boys with the history of our family. Another bonus is that kids who help with food preparation are more likely to eat the things they create.
Mind-set matters
Whether you work outside the home and have to race home from work and childcare to get a square meal on the table, or you've been at home, toting toddlers and refereeing sibling rivalry all day, by the time the dinner bell rings, it's often hard to get inspired about working in the kitchen to feed the family. I like to think of this part of the day as a relaxing way to spend time with the family.
I look forward to dinner preparation and even more to sharing a wholesome meal together. The kids help a little or a lot, depending on their moods. Sure, it's messy, and I've got some clean up to do when our tummies are full, but most nights I'm energized by a good meal and some quality time with the kids. The experience of working together as a team to pull dinner together, the conversations about school and play and friends and life over the meal, and the memories I know I'm building for them make all the broken appliances, flour coated floors and finger printed oven windows worth it.
I think once our mind-set of dinner time changes from being a burden at the end of the day to being an experience that nurtures our growing families, the work aspect of it becomes easier to manage. I enjoy the opportunity to slow down and see the wonderful colors nature makes in fruits and veggies, to smell garlic and onions coming together to add flavor to the meat of the night, and to share many taste tests with the boys.
Not used to working in the kitchen with kids? Here's a place to get started.
• Let kids help prep fresh veggies. Peeling carrots, shelling peas, snapping beans, stemming fresh herbs are all ways to get kids exposed to the ingredients they'll be seeing on their plate. Let them sample the food raw. Big boo hardly ate cooked veggies until he was 2, but he did eat raw veggies during dinner prep.
• Kids too busy with homework to help
le chef
out? Give them small jobs to do, like opening cans, getting items out of fridge or freezer, entering numbers on the microwave, stirring batter or pushing buttons on kitchen appliances. Even the smallest tasks can make dinner time feel like a family event.
• Step stools are a big help. Little ones are sometimes happy just to see what's happening on the counter. If they are grabby while you work, offer them some raw veggies to munch on, or get out some tupper-ware for them to stack and sort.
• Find it hard to juggle cooking and kids at the same time? Give each child a simple job, and tell them you need their help. Let them know loud noises and bickering makes it hard for you to focus on cooking, ask them to pay attention or be excused.
• Set expectations. Tell them where it's safe to stand and what items they can't touch (hot stove, pans, knives, plugs). It's important they know what they CAN do as well; no one wants to be a part of a completely restricted area.
• Can't motivate kids to help out in the kitchen? Next time they remind you how hungry they are while you frantically throw something together, tell them it'll get on the table faster if they can help. Then find an age appropriate job for them. Open the box of pasta, set the table, pour drinks, wash veggies, etc.
• Practice. If it doesn't go well the first time you try it, give it some time. All good teams need practice to work together smoothly. You and your kids need to learn what jobs they're capable of and interested in. You also need to know which menus afford the most time to help kids learn how to help. Invite them in on a simple supper night and work up to letting them help on more complicated meal preparation nights.
• Start with a snack. If you're not ready to invite your child into the kitchen while the food processor is pulsing or the stove is on, try a simple snack they can help with. Once you taste the joy of food with the family at a time when you can't help but focus on the food, you'll be hooked. Cracking
nuts
and liberating
pomegranate
arils are great activities to do with kids. While they require your full attention, both choices are packed with nutrients.
Jenna blogs about feeding the family healthy food at Food with Kid Appeal. She can help the parents of even the pickiest eaters to get their kids eating more food that will grow strong bodies and big brains. Parents of healthy eaters will find lots of kid friendly and mom tested recipes on her blog.

What's your vote? Joy or No Joy when kids are in the kitchen? Let us know why.