Want to save time in the kitchen, but still enjoy good eats. Well, this month is the month to learn 31 new Kitchen Time Savers.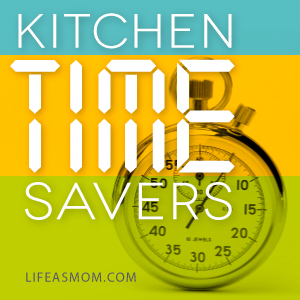 Yesterday, we had three hockey games: 1:30, 4:30, and 7:30. It was a challenge to feed my people an evening meal. The second game was supposed to get out at 5:30, but my crew needed to be back at the rink about 30 minutes before the next game, at 7 pm. That left me a short 90 minutes to get home, get supper cooked, get folks fed, and then shoo them out the door again.
It wasn't a perfect meal, but I pulled off roasted green beans, grilled fish, and steamed rice. Thanks to a few time-saving strategies it all came together. (Please note that this is not always the case, but when it is, it's a pretty sweet experience.)
I'm realizing that as much as I love to cook, I really can't afford to futz around too much. There are some days when it's okay to take my time, and there are other days when I really do need to scurry.
Is it like that at your house, too?
Kitchen Time Savers
I'm really excited about my challenge for the next month. I've dared myself to find 31 ways that I could save time in the kitchen. I love being in the kitchen, but I also don't like to waste. So, saving in the kitchen has to be a good thing, right?
In October, I'll be participating in once again in The Nester's 31 Days series where hundreds of folks are sharing their 31-day challenges. I did this last year on both blogs and it was a lot of fun. If you missed those posts, you can still find them in the archives: 31 Days of Freezer Cooking and 31 Days to Stop and Smell the Roses.
This year over at Good Cheap Eats, I'll be blogging 31 Days of DIY Convenience Foods. Check out both series, and hopefully we'll both learn some new tricks in the kitchen.
Go ahead and bookmark, pin, tweet, or share this post as it will be updated throughout the month with all the posts in the series. It will be your one stop shop for saving time in the kitchen.