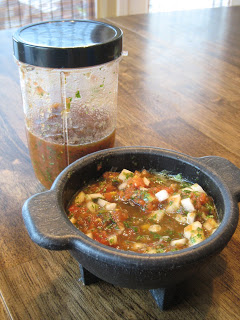 Salsa is a regular staple in my refrigerator. Since my husband and I both grew up in Southern California, we've tasted some mighty fine salsas in our time. Years ago when we moved to one income, I realized that I couldn't spend $4-6 every week on fresh salsa from the store. Nor could I continue to buy hothouse tomatoes all year long. So, I devised a reasonable substitute. Now, it's not as good as a pico de gallo made with fresh-from-the-garden tomatoes. But, it's a good, inexpensive alternative to the canned or jarred variety. (And in light of
recent tomato problems
, we'll be making
our
salsa from homegrown or canned tomatoes for awhile.)
If the dads in your life enjoy spicy foods, this may be a good one to put on the table Sunday.
OR, make a big batch (double the ingredients) and deliver it in a jar tied with a "manly" bow accompanied by a large bag of chips.
You will need:
1 can diced tomatoes
1 bunch of cilantro
1 serrano pepper (use jalapeno if you prefer less heat)
1 clove garlic
a few squirts lime juice
salt and pepper to taste
one small sweet onion, finely chopped
I make this in my Magic Bullet, but you can prepare it in a food processor, blender, or just in a bowl if you don't mind lots of chopping. In blender place half to two-thirds the can of tomatoes.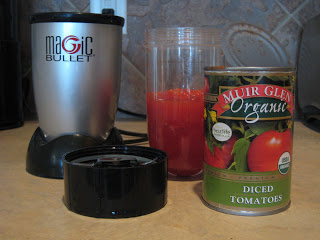 Then add a handful of cilantro leaves. Rinse and pat them dry first.

Store the rest of your cilantro like this, with a plastic bag over the leaves, in the refrigerator. It will last for weeks this way!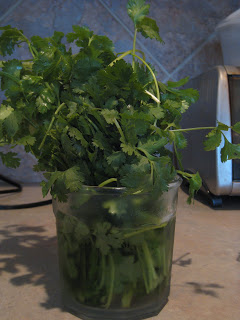 Add one serrano chile, chopped in a few chunks.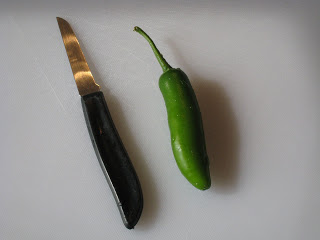 Add garlic and blend until the chunkiness you desire.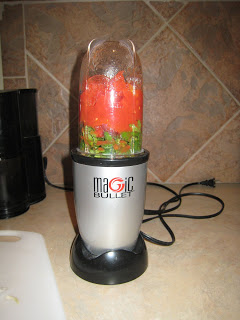 Add extra tomatoes, lime juice, salt and pepper, and onion. Serve chilled.