If you label the pantry shelves, it will save you time.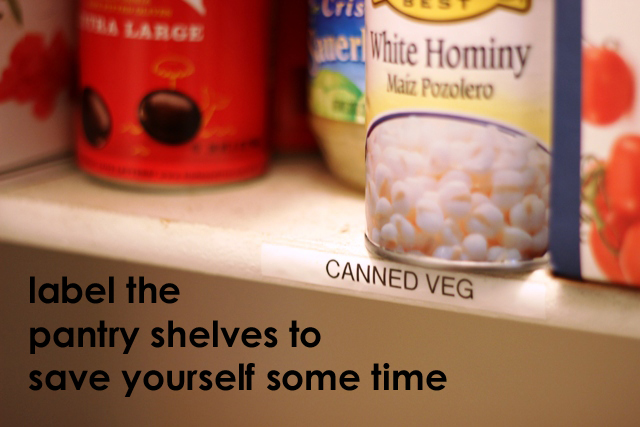 This is Day 18 of the Kitchen Time Savers series. So far, nothing I've shared is all that difficult, but like sands through the hourglass, they add up to make the days of our lives a little bit easier.
🙂 Sorry. I couldn't resist.
Today's tip is super easy:
Label the pantry shelves to save yourself some time.
If your shelves are labeled, you will be able to enlist help from family members when it's time to put away groceries. You will also have a better chance at finding the things that are stored in the cupboards. Plus, maybe you can delegate some of the cooking while you're at it, since your people should be able to find stuff.
Labeling applies to the pantry as well as the cupboards so that folks who are helping to put away dishes and gadgets can put them in the right spots. I even have certain sections of the fridge labeled with a sharpie to help us stay better organized.
Other ideas for organizing your food storage:
It takes a little time investment, but it's totally worth it. It will save you time in the kitchen.
Do you have your shelves labeled?
This post is part of the Kitchen Time Savers series. You can follow along this month as we explore lots of ways to make more efficient use of our time in the kitchen.

Don't want to miss a post in this series? Subscribe to 31 Days of Kitchen Time Savers here. Get updates via email here.