Language Arts Ideas for Homeschooling and Afterschooling
We are a participant in the Amazon Services LLC Associates Program, an affiliate advertising program designed to provide a means for us to earn fees by linking to Amazon.com and affiliated sites. We participate in other affiliate programs as well. For more details, please see our disclosure policy.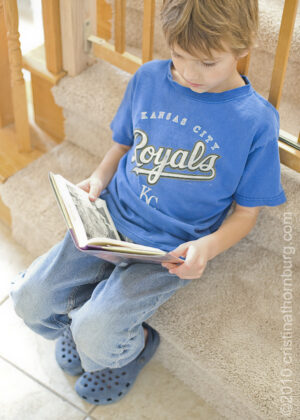 Last week I shared with you some of the education resources that our family uses for Math, Science, and Foreign Language. These were some of the first subjects that we've worked on this year according to my slow immersion method.
Next we worked Language Arts, one of my personal favorites, into our daily routine.
As a writer and a French literature major, I love words and want my kids to have a passion for reading and writing as well. I haven't found a foolproof way toward this end. But, I'm working on it. It helps that I have a husband who's a bookworm also.
Read Read Read
I think that reading lots and lots of books aloud as a family has been key in getting them excited about the world of words. Books like Honey for a Child's Heart have served us well in finding great read alouds to please everyone in the family.
Be Patient
Mechanics, like penmanship, spelling, and grammar have been a little hit and miss over the years. It often just boils down to the kid, his personality, and where he is in his stage of development. Some things have come easier to some kids than others.
On a side note, I'm very thankful for the learning style research that saw huge exposure during my college and graduate studies years. While it was first discussed in the 70s, my early 1990s teaching program talked about the different ways that people learn a lot.

Not all of us excel at book learning, others are auditory, still others learn by doing and using their hands. While I haven't formally explored this with my kids, I'm aware that some learn differently than others.
Some of the language arts resources that I've enjoyed using include:
Phonics and Reading
I have used Phonics Pathways as a reading primer with my oldest three boys who all learned to read well. It helped that we used the phonograms described in Spell to Write and Read. Knowing all the sounds of all the letters was like providing them with all the pieces of the jigsaw puzzle. I did not follow the Spell to Write and Read program exactly as it is prescribed, but I know many families have had amazing success with it.
Currently, FishBoy6 and I practice with the phonograms, with the primer, and with early readers that are phonics based. Years ago I bought a few sets of used phonics readers from Modern Curriculum Press and was pleased to find them recently available on Amazon. The sets we had were on their last legs to begin with and four toddlers haven't been very kind to them. So, with three more kids to teach to read, I thought it was fair to invest in some new ones. FishBoy is gonna be thrilled when they get here! He's so proud of himself to get through a book on his own.
Vocabulary
My friend Joy turned me on to the Wordly Wise series of vocabulary books. We used them last year with great success. This year we're using third and fifth grades while my eighth grader tackles Vocabulary from Classical Roots. We've found the exposure to new words to be very helpful. And I love it that they always ask when they encounter a word they don't know.
Maybe they will be lifelong learners, after all.
Grammar
We used Easy Grammar for years. It was great as a daily drill, but after several years, I didn't see things really sinking in. This year, I'm working through Winston Grammar with my two older boys. The friendly competition has been good for them, and they seem to be grasping the concepts of grammar very easily.
One of the things that I really like about Winston Grammar are the color-coded cards, they are great for tactile learners as well as those for whom color coding works well with.
I also bought some Mad Libs that I'm looking forward to breaking out some day soon.
The younger boys and I are going to work through First Language Lessons which addresses more than just grammar when the new edition is finally released. I'll report back later.
Penmanship
For years and year, I ordered our handwriting books directly from Zaner-Bloser, a publisher that supplies public schools. This year I saved a lot of money by ordering the lower-priced series of a similar nature from Christian Liberty Press, including Writing with Grace. So far, so good.
Writing
After much trial and error over the years, last year we invested in The Institute for Excellence in Writing curriculum and have been so pleased with the program. Andrew Pudewa is hilarious, and the boys love watching the teaching dvd as he explains the ins and outs of writing.
Whether you are teaching your children at home or supervising and/or supplementing their education after hours, having some go-to resources can make the process so much easier.
What helps you and your kids play well with words?