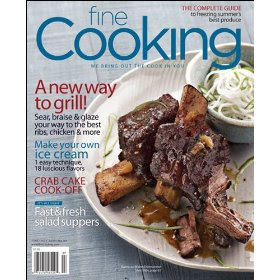 One of my most favorite gifts that my mother-in-law ever gave me was several years' subscription to Fine Cooking
. I have kept — and used — all the back issues over the years. They have proven to be an invaluable resource to me in the kitchen.
A good magazine can do that — help in every day life. Not only that, but it can also be a great reminder to the recipient of your love and care for them. Every month!
A magazine subscription can also be a fantastic last minute gift. Order the magazine and then print off a thumbnail shot of the magazine and paste it inside their Christmas card. Easy peasy. (And they'll never know their gift was "last minute.")
Amazon has had some great deals on magazines over the last month, many as low as $5/year. Take advantage of them while you can. Some screaming deals? The following publications are eligible for an extra $5 off their sale price making them a great bargain.
Disney Family Fun – $4.95
Parents – $4.97

Food Network Magazine – $10
More $5 Magazines

There are lots more magazines
to choose from!