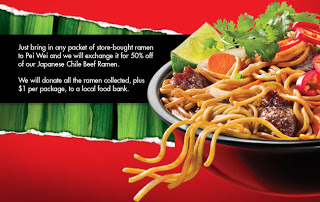 I usually save my deal reports for Saturdays, but this is time sensitive. And since I love me some PeiWei, I thought I would share the love.
When you bring in a package of store bought ramen to exchange, PeiWei is offering 50% off their new Japanese Chile Beef Ramen, tomorrow (Wednesday, 9-9-09) only.
Today I received my coupon for a free order of the Japanese Chile Beef Ramen, thanks to signing their Facebook petition to "upgrade ramen". If you didn't sign up, there's still time to do so.
Lastly, in select areas, online ordering is available. First time users can get 25% off their orders.
Can you say yummy?