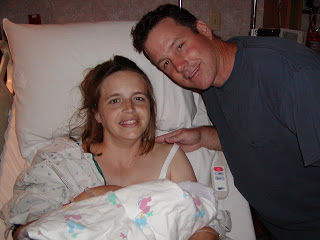 I remember all too well what a know-it-all I was when my first child was born. I had purchased a number of pregnancy and baby books. And somehow I figured that I knew everything that there was to know about caring for a newborn. So much so that I didn't watch the videos that the hospital recommended new parents view while under their care.
This particular hospital also did not offer lactation assistance. And since I "had read the book," I thought I knew what I was doing. I thought "on demand" feeding meant feed him only when he cried. So, he got very little nursing in those early hours.
We had taken a childbirth class, but I now know how much we didn't know. Oh my!
My first delivery was during "the drive-through baby" era when insurance companies only let you stay in the hospital for 24 hours. My mother, who had stayed 3-4 days with each of her babies, was shocked that they sent us home so soon.
Long story short, all of this compounded into a very hungry baby and an extremely engorged mother. I learned the hard way. And it took hours to feed my poor baby and years for me to get over the guilt of my stupidity. I've learned and I can laugh about it — now.
However, this doesn't have to be the case for anyone else. I'm pleased to offer up a giveaway for a set of DVDs that I think will help any parents of newborns learn about the basics in a fun, easy way.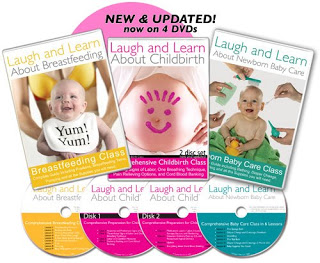 Laugh and Learn DVDs feature Sheri Bayles, a nurse and childbirth educator with a great sense of humor. I enjoyed watching the childbirth class and was pleased to see how she really makes an effort to educate moms about their options and to help them avoid c-sections whenever possible. These would make a great gift for a new mom, but they would also serve as an excellent refresher course for anyone who's already had a child.
Personally, I feel like I learn something new every time. And I've had SIX KIDS! I wish I had had something like this with my first, and again last summer when it seemed like my brain was forgetting everything I knew.
The DVD set includes Laugh and Learn About Newborn Baby Care, Laugh and Learn About Breastfeeding, and Laugh and Learn About Childbirth.
For a limited time, you can watch the first Childbirth class here.
This giveaway is open until Saturday night at midnight PST. Winner will be chosen at random by Random.org and announced early next week.
How can you enter?
1. Post about this giveaway on your blog, linking to Life as MOM, and leave the link to your post here in the comments section.
2. Leave a comment telling us what dumb thing you've done as an inexperienced mom. (If you're not a mom, you can tell us something else that was dumb.) And if you'd rather not share that, just ask a question you have about babies or childbirth.