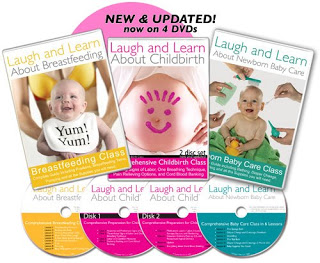 Thanks to everyone who participated in the Laugh and Learn DVD giveaway. It's apparent from the comments that I'm not the only one around here making mistakes. Good to know.
If you didn't get the opportunity, check out the Laugh and Learn website where you can watch the first class for free. Sheri Bayles is a Lamaze Certified Instructor and Lactation Consultant with, thank goodness, a sense of humor. Her classes are entertaining as well as informative.
One of the things that I appreciated was her approach in teaching pregnant couples how to avoid a surgical birth. Now, obviously, there are instances where a c-section is absolutely necessary. But there are plenty of other times when it could have been avoided.
Sheri has a common sense approach to teaching how the woman's body works to birth a baby and what we can do to help it along. I know from my own six births that what I did during labor had a direct impact on the speed of the delivery, my comfort (or lack thereof), the wear on my body, and my recovery time afterward. All of these things effect your first days and weeks with your new baby. So, I'm a big proponent of going in with as much information as you can. While not everything in these DVDs may work for you, it's good to know your options and fill your hospital bag of tricks.
Congratulations to ShellyLynn, the winner of this giveaway. ShellyLynn, please email me (lifeasmom at sbcglobal dot net) with your mailing address within the next 48 hours so we can ship your DVDs to you.
If you didn't win this time, you can still purchase these DVDs at a great price. Use the coupon code LifeMom in order to get 20% off your order of Laugh and Learn DVDs through April 17th. These would make a great gift for any new or expecting mom. Even second (or sixth) timers can benefit from reviewing the material covered here as a refresher course or even as an opportunity to learn something new.