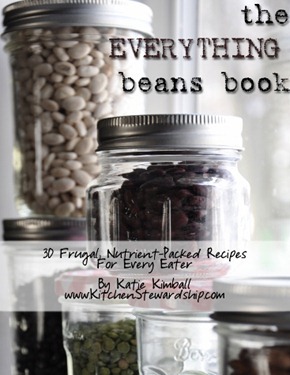 Beans and rice, rice and beans — one of the means that our family used to get out of debt. Talk about your super-frugal foods! Four years ago we found ourselves in major debt. We had used up our savings and had hit rock bottom.
It was a very sobering time. But, after some research and desperate prayer, we found some ways to climb out of the hole we had dug for ourselves. We were able to live within our means, save money, eat well, and lose some weight during the year or two when beans and rice were served up two to three times a week.
(I even got back into my wedding dress that summer. I made hubs take a picture. It didn't look good on me, but at least it could zip!)
The Everything Beans Book
My friend Katie from Kitchen Stewardship has put together an ebook, dedicated to the noble frugal food, in her latest The Everything Beans Book. Katie has done a fantastic job putting together an all-purpose book about beans. She includes a huge variety of recipes from making a broths from scratch to preparing wraps, main dish meals, and even brownies using beans!
Katie has the heart of a researcher. She is a wealth of information when it comes to nutrition and quite honestly, she's my go-to girl when I want to know the nitty gritty details about food science. So, know that you're going to learn a lot from this book — not just how to cook a bean!
For $9.95 here's what you get:
95 pages and 30 recipes to lower your food budget and raise your nutrition at the same time. Twenty pages of…well…everything you might want to know about beans, including how to get comfortable with dry beans so you can save even more money (but not spend forever in the kitchen).
This week Katie is offering it to my readers for 20% off. Just use the coupon code LIFEWITHBEANS at checkout to get the discounted price. The coupon is good through March 21st at  midnight MST
Click here to view more details
Do you regularly cook with beans?
Disclosure: I received a review copy of the book and am a Kitchen Stewardship affiliate.