THIS EBOOK IS NO LONGER AVAILABLE.
First there was Pretty. Cool. Cakes. A Baker's Dozen of Creative Birthday Cake Ideas.
Now there's the sequel…
More Cool Cakes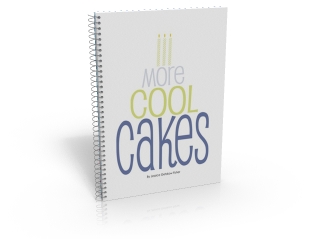 Not only does this e-booklet include the basics to making home decorated cakes yourself, but it also includes recipes for buttercream frostings and for doctoring up cake mixes as well as over a dozen different cake and cupcake themes that you can duplicate or use as inspiration for your own custom variations.
Included in the book are the following themes:

Rapunzel's Tower
Dora the Explorer
Orca and Blue Whale Cakes
Toy Story
Death Star
Lego Bionicle Thornax
Drive-In Movie Theater
Indiana Jones
Lego Power Miners
Get Outta Debt
Empty Tomb of the Resurrection
Mother's Day Cupcakes
Fall Flower Cupcakes
Buche de Noel or Yule Log
Each cake in this 42-page book is illustrated by color photographs and step-by-step instructions.
You may not feel like you're a cake baker today, but after reading this book, you'll have the confidence to give it a go.
Available for instant, digital download – $4