The world of natural remedies can seem confusing, but it doesn't have to be. If we take the time to learn about herbs and essential oils, we can help our families feel better and stay healthier.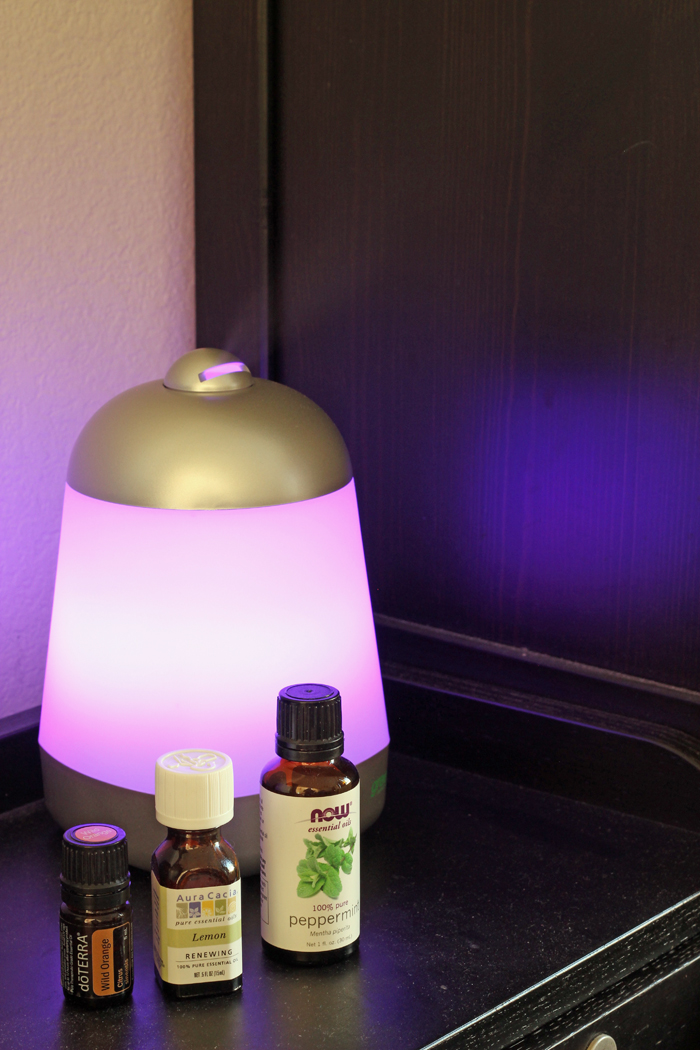 Right before our trip to France, I did something I never thought I would do. I bought some essential oils. I had resisted the fad for quite some time, but as we prepared to take six kids overseas for a month and expose them to who knows what kinds of germs, I started asking questions.
Turns out that while I have any number of very loud and proud oily acquaintances, I also had several very close friends who were closet oil enthusiasts. Who knew?
They kept their interest under wraps because it can be a controversial topic. Not just "Do you use oils?" But which oils do you use?
Learn to Use Natural Remedies
I was very thankful to talk with Janel and Lynn and JessieLeigh and find out that they had done quite a bit of research and had very measured advice to give me. I wanted to make sure that I had some tricks packed in my bag. In addition to OTC meds that I packed to help symptoms, I wanted a few natural items to take along as well. While I didn't go full-bore for our trip, I was ever so thankful for the bottle of peppermint oil that helped us aromatically deal with colds, stuffy noses, and bad metro smells.
When I came home, I invested in a diffuser and a few more oils. While I haven't gone too far into my studies of natural remedies, I am thankful to see that there are some herbs and essential oils to help every day maladies. I've since busted out, buying a few more diffusers for a great deal at Thrive Market for other rooms of the house and have expanded my oil collection. I even got some roller ball doodahs!
I don't know as much as I would like, but I know more than half of what I used to know. If you know what I mean.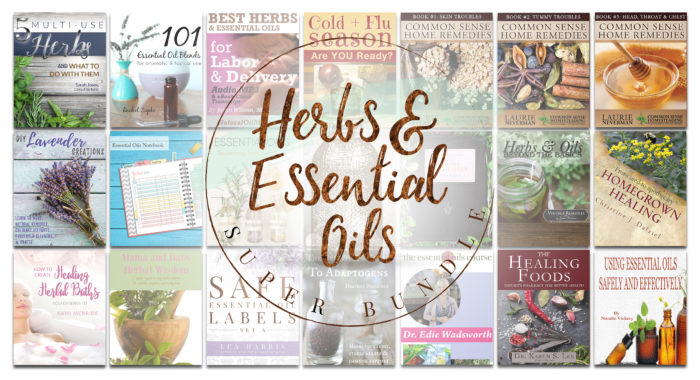 The Ultimate Bundle folks have done it again. To help those of us who don't know all there is to know about the safe usage of herbs and essential oils, they've put together an Herbs and Essential Oils Super Bundle. I'm looking forward to prepping for the fall and being ready for the onslaught of school year germs. Ugh. I'd rather go to Europe for my germs, but c'est la vie.
Here's what's included:
Herbs & Essential Oils Super Bundle Product list:
101 Essential Oil Blends for Topical & Aromatic Use by Rachel Zupke of Mason Jar Values ($7.99)
5 Multi-Use Herbs (And What to Do with Them) by Sarah Josey of Golden Poppy Herbal Apothecary & Clinic ($17.00)
Best Herbs & Essential Oils For Labor & Delivery-Audio Class & Transcript by Jenni Wilson of Natural Oil Mom ($19.95)
Cold & Flu Season: Are You Ready? by Carol Little ($9.99)
Common Sense Home Remedies Book #1 – Head, Throat & Chest by Laurie Neverman of Common Sense Home ($2.99)
Common Sense Home Remedies Book #1 – Skin Troubles by Laurie Neverman of Common Sense Home ($2.99)
Common Sense Home Remedies Book #1 – Tummy Troubles by Laurie Neverman of Common Sense Home ($2.99)
DIY Lavender Creations by Stacy Karen of A Delightful Home ($5.99)
Essential Oils Planner by Amy Bayliss of AmyBayliss.com ($5.95)
Essential Oils: Separating Truth from Myth by Kristen Smith of Smithspirations ($9.95)
Essential Oils: The Herbalist's Toolkit by Amber Meyers of Herbal Academy of New England ($4.99)
Handbook of Home Remedies by Wellness Mama ($24.00)
Herbs & Oils: Beyond the Basics by Jessie Hawkins of Vintage Remedies ($197.00)
Homegrown Healing, from Seed to Apothecary by Chris Dalziel of Joybilee Farm ($9.97)
How to Create Healing Herbal Baths by Kami McBride of Living Awareness ($19.99)
Mama and Baby Herbal Wisdom by Kate Tietje of Modern Alternative Mama ($7.95)
Safe EO Labels – Set A by Lea Harris of Using EOs Safely ($19.99)
The Essential Oils Course by Edie Wadsworth of Living Life in Grace ($39.00)
Using Essential Oils Safely & Effectively by Natalie Vickery of The Family Herbalist ($12.50)
Wholistic Vitality: Healing Foods for the Whole Family by Dr. Karen Lee of DrKarenSLee.com ($9.99)
With your bundle, you'll ALSO receive a special coupon for 50% off bulk herbs and essential oils from Golden Poppy Herbal Apothecary, a full-service apothecary and clinic offering small batch hand-made herbal products to enhance your health and wellbeing.
Learn about natural remedies easily and economically.
Worried about information overload? Don't be: there's a handy Getting Started Guide to help you take action right away.
The entire package of natural remedies information, normally valued at over $400, is available for $29.97. The bundle will only be available through Monday night (6/27 midnight), so you'll want to grab this while you can.