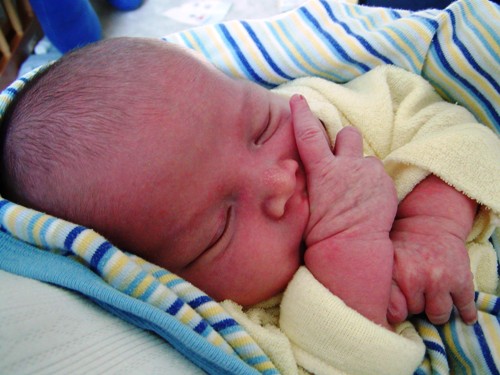 My baby daze are behind me. It's a bittersweet time as I watch my "baby" run, walk, talk, and start to learn her letters.
While I remember that it was hard to be pregnant (nine times) and have so many little ones at once (six), I am so thankful for the experience and for my little people who aren't so little anymore.
I don't think that I was the "crunchiest" of moms, but my mom had been a natural childbirth/breastfeeding mom of the 70s, so that was what I knew and grew up with. Mine were unmedicated hospital deliveries which I found to be a good mix of modern and traditional. I breastfeed all six kids exclusively.
When I started having babies in the late 90s, I was surprised to see how "medical" pregnancy and birth had become. I had to fight pretty hard in those hospitals to keep the drugs away, manage the pain, and fend off the bottles of sugar water. As if birthing a nine-pound baby isn't hard enough.
Please know that I am very thankful that there are such sophisticated medical options out there. I have many a friend whose life has been saved thanks to modern technology. All the same, I am equally thankful for the moms, books, and resources I had to turn to when I wanted to go a less-medical, more natural route.
I feel like an old lady now saying, "Look how much easier it is now!"
(Okay, pushing out the nine-pound baby isn't any easier, but finding support and information is!)
This week's Bundle of the Week is full of information I could have used so many years ago!
Pregnancy, childbirth and welcoming a new baby can be overwhelming, but this week's bundle is a collection of resources to help you make informed decisions about each. With a bent toward natural living, this collection includes real food recipes for pregnancy and beyond, plus tips for breastfeeding, natural birth and simple living with a baby. This week only, get all 5 ebooks for just $7.40 (a savings of more than 80%)!
With your purchase, you'll get all five of the following ebooks: