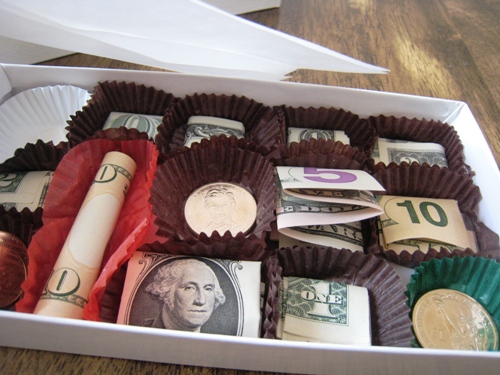 Money is a big deal to me as  a mom. Well, let me rephrase that. Money management is a big deal to me as a mom.
Managing a household of 8 and making sure that there's enough bread to go around is a weighty responsibility. And one I no longer take as lightly as I once did. FishPapa and I have seen good times, bad times, and in-between times. And we've learned a lot about money management over the years, oftentimes through some big mistakes.
Four years ago we realized that we were in deep debt and that we needed to do something about it. You've probably read our get-out-of-debt story before. It's an amazing testimony of God's mercy on my life. Short story: we paid off $18,000 in about 18 months and now carry no debts except for a rental property mortgage.
One of the keys to teaching us better money management was moving to an all-cash system in which we paid our regular bills first and then pulled out a budgeted amount of cash for groceries and "blow" money. We could spend until the cash was gone, and then we had to make do until the next budget cycle.
In some circles this is referred to as "the envelope system." Nowadays we often use a debit card instead of cash; we're simply in a season where the debit card works best for tracking our purchases. Me and Quicken, we're tight.
However, I am a strong believer in the value of an envelope or cash system. And I love this money management system for kids called Kidbudget.

Kidbudget is a cash management system designed with children in mind. With colorful pouches, a reminder wristband, and a full-color booklet that teaches the basics of money management, your kids can learn about money and how to be wise with it in a fun and age-appropriate way.
Our boys have walked through debt with us. Most of them are old enough to remember my selling things right and left on ebay or hawking whatever wasn't nailed down at garage sales. They understand that money matters.
But, I do often wonder if I'm really equipping them for the future. This is what Kim Daley, mom of 7 and the creator of Kidbudget realized herself:
From the time my kids were little I thought I was teaching them financial skills. I took them to the bank when they got cash for their birthday and opened a savings account. They were so excited to deposit money. I had them take a percentage of all their income and put it towards charity.

It wasn't until my older children left home that I realized it wasn't enough. They had a few basic skills, but lacked a sound financial background. I did not give them financial ownership at a young age. I did not want to repeat that same mistake with my younger children. My search was on – find a system designed to teach and empower children in making financial decisions independently.

My search was to no avail. Not finding what I wanted, I decided to create my own system. After a year in the making, Kidbudget was born. With my design skills and my husband's business acumen, we designed a kid centric personalized budgeting and finance system.

Based on the time-proven envelope system, Kidbudget is designed to help children set goals for long and short term saving, giving, and spending. The system can be tailored to each individual child. It teaches the importance of tracking where money comes from and where it is going.

The system includes a full-color graphic workbook with jokes, activities, and interactive lessons; the Vault (a storage bag for money); four colorful pouches (envelopes); and a reminder band to help kids remember the promise they make to spend wisely. This system is truly designed to be kid friendly and engaging.

It has been an incredible journey. My younger children now understand these important lessons. There are no longer pleas for this and begging for that. They have learned to save, give, and spend. They track their money and know exactly how much money they have earned from the beginning of the year. As my fourth daughter prepares to graduate from high school, she is much better prepared for the adventure ahead.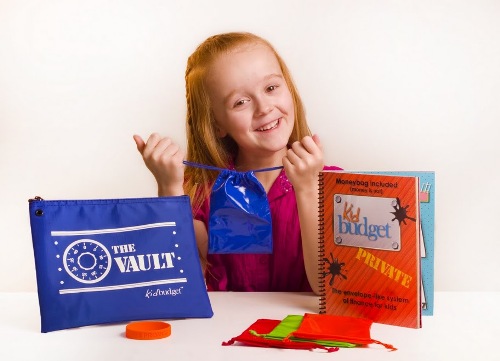 As a mom, I'm excited about this system and recently gave the review set to my 9 year old for his birthday. Kids love it when we stop babying them, and I think giving them tools to manage their own money is a great way to do just that. Not only do they feel more grown up and confident, but they develop skills to serve them for a lifetime.
Kidbudget also provides a few free printable pages designed for kids to track their spending and earning.
(This giveaway is now closed.)
Congrats to the winners: aztess@, tanzer1326@, jlmjohns@
This weekend, three LifeasMOM readers will win the complete Kidbudget set.
To Enter:

Leave a comment, telling us how you learned to manage money.

For extra entries:

"Like" KidBudget and LifeasMOM on Facebook and leave another comment, telling us you did so.

Follow KidBudget and FishMama on twitter and leave another comment, telling us you did so.
This giveaway will be open until Sunday, June 12th at 8pm PST. Winners will be chosen randomly, notified via email and have 48 hours to respond in order to claim the prize.
(This giveaway is now closed.)
Congrats to the winners: aztess@, tanzer1326@, jlmjohns@
Disclosure: I received a review set of Kidbudget as well as compensation for my time spent writing. However, I was not compensated to publish positive comments. Any opinions are solely my own.