Lego Bionicle Thornax Birthday Cake
As an Amazon Associate I earn from qualifying purchases. For more details, please see our disclosure policy.
Remember this?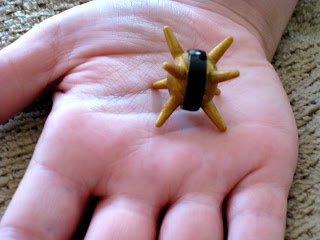 It's the Lego Bionicle "thing" my son wanted his birthday cake to look like. You know I'm always up for a birthday cake challenge, right? (Just for the record, it's called a Thornax.)
Well, I'm pleased to report that I came, I saw, I baked that cake!
The frosting job wasn't the best, but I blame the virus I've been fighting for the last few weeks. And you know what? My kid didn't complain. He was really pleased — and really polite, too.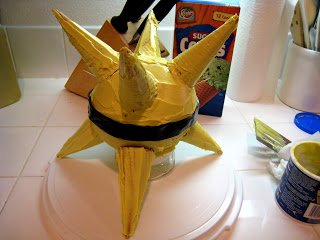 To make this Lego Bionicle Thornax cake, you'll need:
1 boxed cake mix, prepared according to package directions
1 can of prepared frosting
yellow paste food coloring
a small wide mouthed jar with lid (or some other container to hold the Tornax off your serving plate)
8 sugar cones
powdered sugar
black fondant
Bake cake according to the directions included with the sports ball cake pan. Remove from pans and cool completely. Tint frosting the desired shade of yellow with the paste food coloring. "Glue" the jar to your serving plate with a little frosting. Frost one half of the cake and place it flat side up on the jar. Frost the flat side. Place second half of the cake flat side down on the first half. Frost the entire ball. Frost the sugar cones and place them about the cake at equal intervals, four on each half of the cake as shown. Use toothpicks to support the cones on the top half. Cones on the bottom half will rest lightly on your serving tray. Roll out fondant on a surface sprinkled lightly with powdered sugar. Cut a 1-inch strip of fondant to place around the "equator" of the ball.
*This sports ball cake pan also works well if you're making a Pokeball cake for a Pokemon fan.
Looking for more creative birthday cakes? Check out my ebook, Pretty.Cool.Cakes.
For more fun, kid-friendly foods, visit Tasty Tuesday.