For better or worse, my kids' birthdays come lumped together. Three in late May/early June and two in November. Yes, FishBaby is all by her lonesome in August, but that's okay. These two "birthday seasons" are full enough.
Last week FishBoy9 and FishChick3 celebrated their birthdays. Or should I say we celebrated FishBoy9 and FishChick3? I'm so blessed to have such a full nest.
As I mentioned at Frugal Friday, we try to keep things a little mellow around here on birthdays: a special dinner, a special cake, maybe an outing, a few presents. I can get a little too carried away with festivities.
Here's our Fall Birthday Season in Review: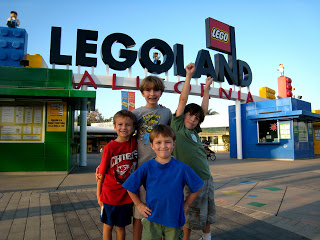 On Monday FishPapa took the boys to Homeschool Days at Legoland. Every Monday during the off season Legoland offers discount admission to homeschooling families. While this wasn't a typical "birthday celebration," the timing was good. When we moved back to California after living five years in the Midwest we decided that each year we would focus on a different So Cal attraction. 2009 was Legoland's year as we did Homeschool Days twice and visited the Legoland Aquarium once. (I'm pulling for 2010 to be the Disneyland year. But I digress…)
The boys loved their day at the park. We're finding that since our kids range from 1 to 12 in age there are instances when it's appropriate to "divide and conquer." That is, we're okay that the guys may go do something while the little girls and I stay home or vice versa. In the case of Legoland, this is imperative since so many of the rides (like none) are available to littles like my girls. I can either play with them on a bench at an amusement park or play with them in the comfort of my own home. I choose the place without public toilets.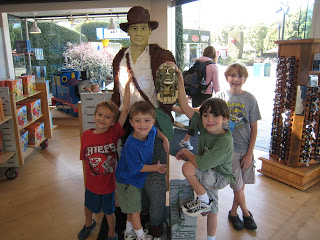 Later the Fisher-men came home for a special birthday dinner, a
Lego Bionicle Thornax cake
, and presents. I'm sorry to say that
Sauerkraut and Pork Roast
just isn't photogenic. It tastes great AND was exactly what the birthday boy ordered, but it doesn't make a pretty picture. I tried.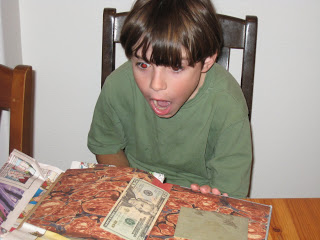 We allotted a $40 budget for each kid's gifts. For FishBoy that included a highly desirable book, a Perry the Platypus tshirt, and $20 to go towards a special savings fund he's started. He was extremely surprised and pleased. (Birthday budgets vary with the season and what the child really desires at the time. This is what worked for us.)
As for my girly, we had a super mellow day. My parents came down for the weekend. We picnicked at a local park and then we went home for dinner, cake, and presents. The fun part was that FishChick hasn't come up to speed on the "mine, mine, mine" thing that plagues many children on their birthdays. Everything was a pleasant surprise for her. So sweet!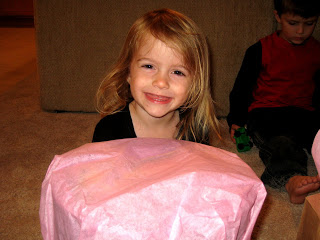 It's not been often that I've wrapped presents in PINK paper. We bought her a Tinkerbell sleeping bag (9 bucks at Walmart!), new underwear, new headbands, a hairbrush of her own, and this:
Despite the pink and Tink, she's still kind of a tomboy, too. Her papa is a Chargers fan, so she knew all about this. "My jersey!" she exclaimed. FishBoy5 was a little hacked off about it. That was pretty funny.
(Don't worry, we're getting him one for Christmas.)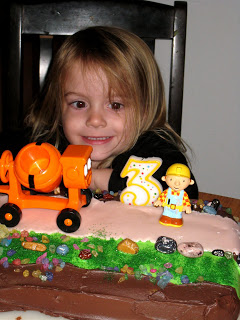 And the girl loved her Bob the Builder Cake. It was great decorating it with her. She did most of the work!
Both kids were just so happy and thankful for what they had. It was an extremely pleasant week, now that I think about it. No gimmes, No "but it's my birfday." I am, indeed, a blessed woman.
Simple birthdays most definitely work for me.