Tips for Visiting Legoland
As an Amazon Associate I earn from qualifying purchases. For more details, please see our disclosure policy.
Anyone in your house crazy for Legos? Check out these tips for visiting Legoland California.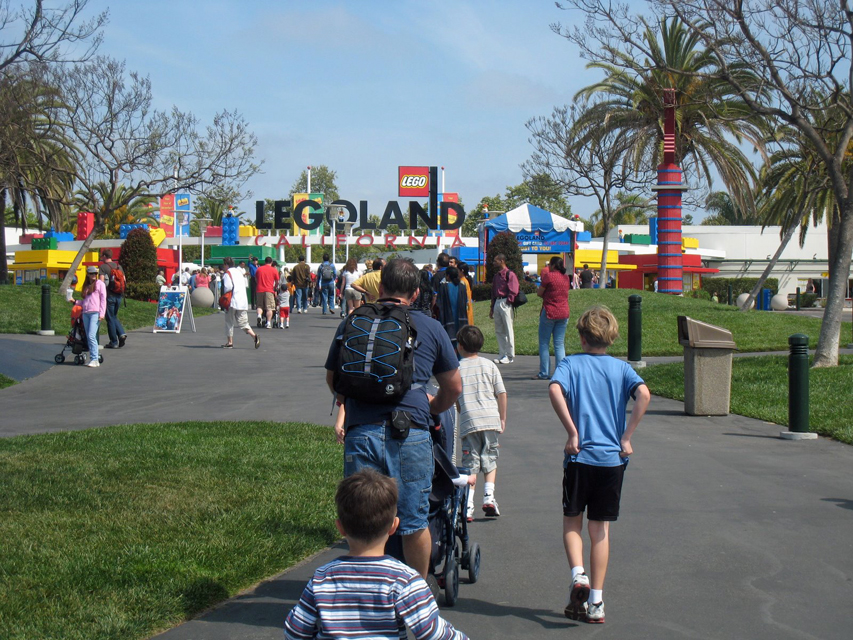 Last week our family took the long-awaited journey into the land of amusement parks. Since our boys absolutely adore Legos, we innaugurated the FishFamily Adventurers at Legoland. The park is extremely well-cared for, the bathrooms were impeccably clean, and the staff was amazingly courteous and helpful. Two thumbs up!
(And no, they didn't pay me to say that. In fact, I paid them.)
Read this post: Legoland on a Budget
Here is my unsolicited advice on how you can "do Legoland" and still like your husband, your kids, and yourself at the end of the day. We actually had a great time. But, I did find myself smacking my head over things I didn't plan for or over a friend's advice I didn't heed.
How to Enjoy Your Day at Legoland California
Last week I mentioned a number of money-saving tips for amusement parks on the cheap. Today it's an overview of this specific park.
So, listen up, you mamas of lego maniacs. Give ear to my words.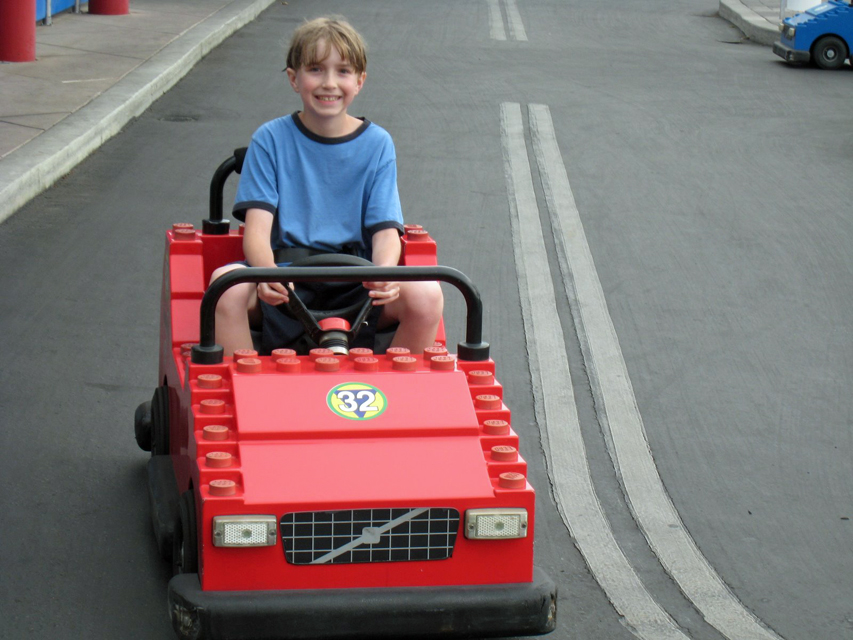 Height matters.
Oh, does it ever. Many rides have height or age restrictions. Only 2 of our 5 walking children (ages 8 and 11) were eligible to go on every ride without some kind of condition attached. Our next two (ages 6 and 4) were able to go on most rides, but usually had to be accompanied by another rider.
I wrongly assumed that all rides had the same guidelines. On the one roller coaster that I went on, they had to be accompanied by an adult. This meant that two kids and I went on the ride while the other two waited at the station. Then, I got to go a second time with the other two children while the first two waited at the station. Not only does this take longer to go on every ride, but you have to be separated from your kids for a time. (We did this according to instructions from Legoland personnel – certainly not my preference.)
If your child is over 48″, he's set. He can pretty much go on anything and everything, except maybe a few toddler rides which he wouldn't want to go on anyway. So, take some time to peruse the ride descriptions and know what you're in for and map your day accordingly.
Go here for a detailed description of attractions that have no height requirement.
Take as many adults as you can.
I think a man-on-kid ratio would be best. In a perfect world, of course. If the point is to be able to go on as many rides as you can, then you're going to need adults to do the rides with kids and adults to care for those that are too small to go on anything. In our case, one other adult might have been nice; we could have avoided the aforementioned adult-needed-on-the-ride scenario.
Eat well, but cheap.
You might need a second mortgage to pay for the food at Legoland. So, bring lunch, water bottles, and snacks and prepare to tailgate.
Special insider tip: There is a Costco just around the corner from Legoland. If you don't mind getting your handstamped and okaying your exit with the parking attendants, head over there for a buck-fifty hot dog and soda. If you've got a big group, it'll certainly be worth it.
Or you could send one parent to go pick up a pizza and come back. You could even walk; it's that close. When you leave Legoland, take a left at the roundabout, which is Armada Drive. If you're walking, it's closer not to leave through the main entrance. Mapquest it.
And as you probably know by now, eat before everyone's famished. This is a great way to cut off the meltdowns at the pass.
Check out this post: How to Eat Well & Spend Less During a Staycation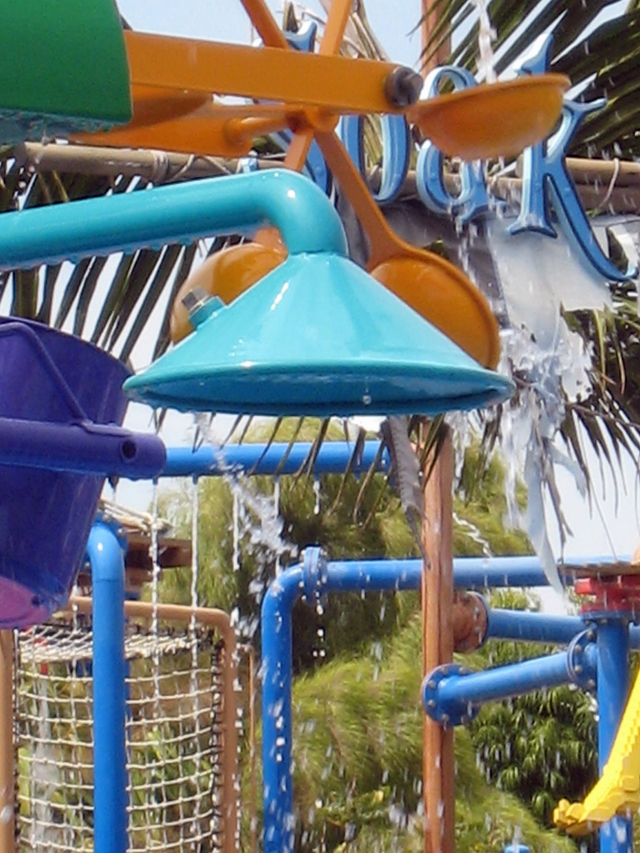 Prepare to get wet.
There is a very nice water park on the grounds with slides and sprays and all sorts of cool stuff. Bring towels, sunscreen, and extra clothes. Just don't forget your bag there so that you have to go back two days later and pick it up. (Ask me how I know.)
Consider doing the water park last if your kids don't want to walk around wet or invest some coins in the family-sized dryers that they have available. (You climb inside this heating unit to dry off quickly.)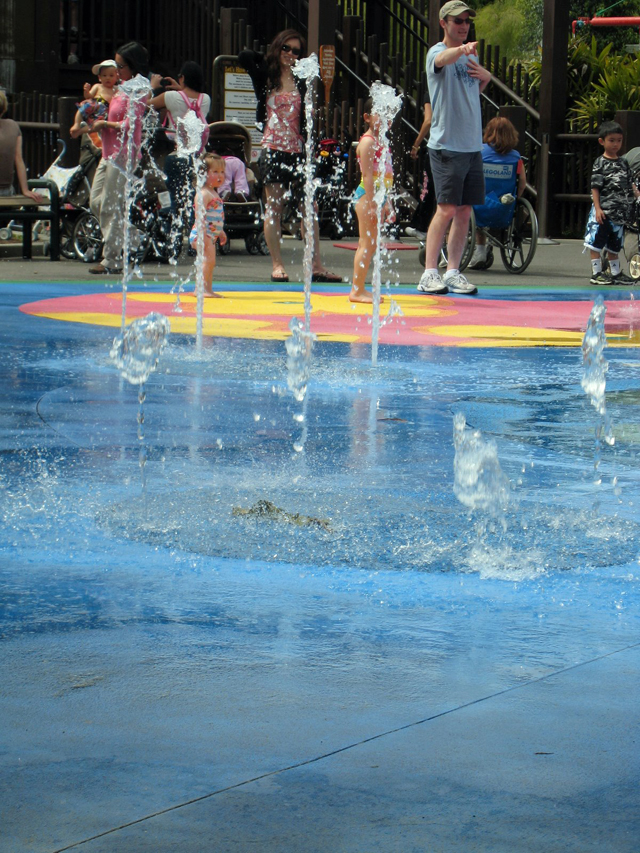 Keep your littles entertained.
I can't stress the point enough. If rides are the goal, your little ones will be left out. So, don't make that your goal — at least not for them. Instead, do these things:
Attend the shows – we enjoyed the Bob the Builder 4D show very much.
Explore Miniland with the multitude of miniature lego replicas — the White House and Captiol are superb.
Play on the playgrounds – there are at least three that I remember.
If there are enough adults to do rides with your bigger kids, then let your littles have their way climbing and pretending on the playsets and in the imagination zone. (Here are things for the little guys.)
Read this post: Legoland with a Two-Year Old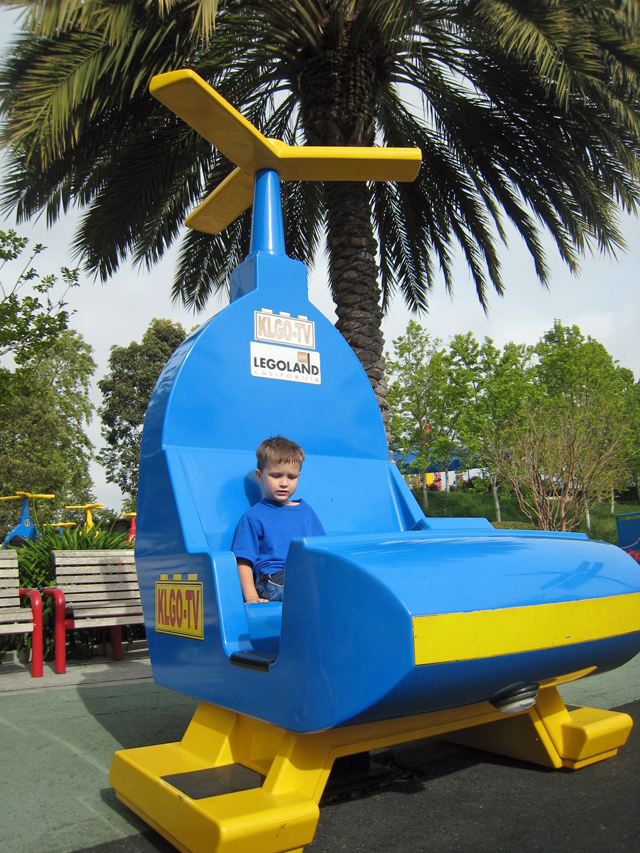 Though this picture seems to tell a different story, this little guy could think of nothing else until he got to climb on this helicopter.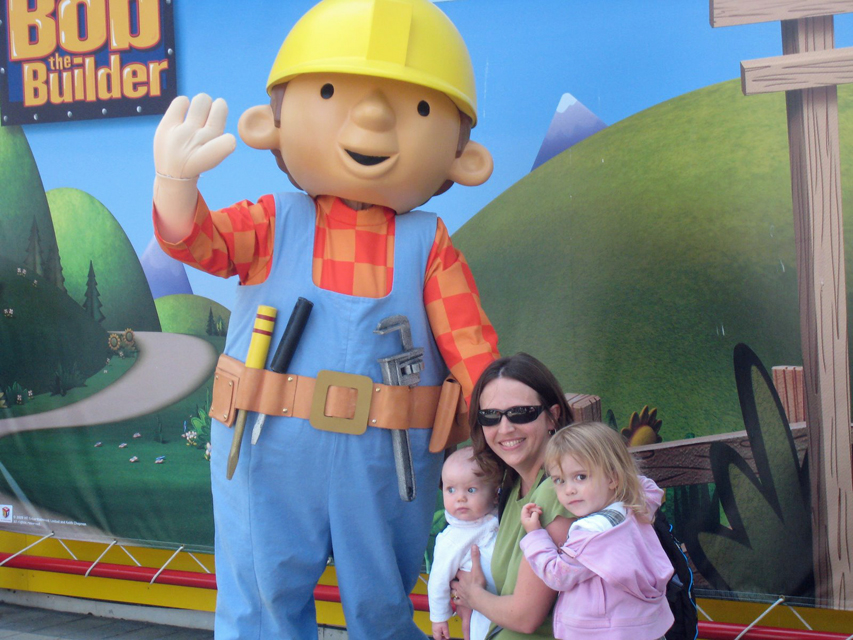 Take lots of photos.
I didn't expect there to be "characters" at Legoland. But the girls and I were able to get our picture taken with none other than Bob the Builder. They also have lego-made statues to represent all sorts of characters from Bob to Darth Vader to C3PO to lots of Bionicle guys.
Examine the map ahead of time.
It can be so overwhelming in the midst of first getting there to find your bearings. All the squawking and shouted (and whined) expectations will overwhelm you. So, familiarize yourself beforehand with the lay of the land.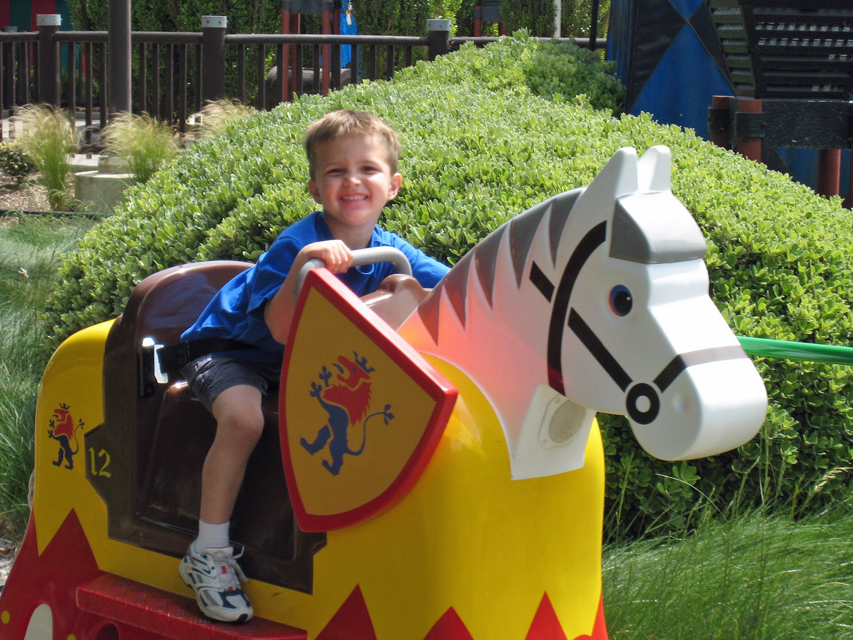 Just enjoy the day!
I imagine that if you're making the conscious choice to go to Legoland, that it is for the benefit of your kids. So, make up your mind ahead of time that if they want to go on the same ride – twice or five times more, that it's okay, time permitting. You want them to enjoy the day, not feel pulled in many directions.
One last little tidbit: I bet you didn't know that they made Legos in my green, did you?
Have you been to Legoland?
What's been your experience? How did you make the most of the day? What do you wish you'd done differently?
Related:
Visiting and Vacationing in San Diego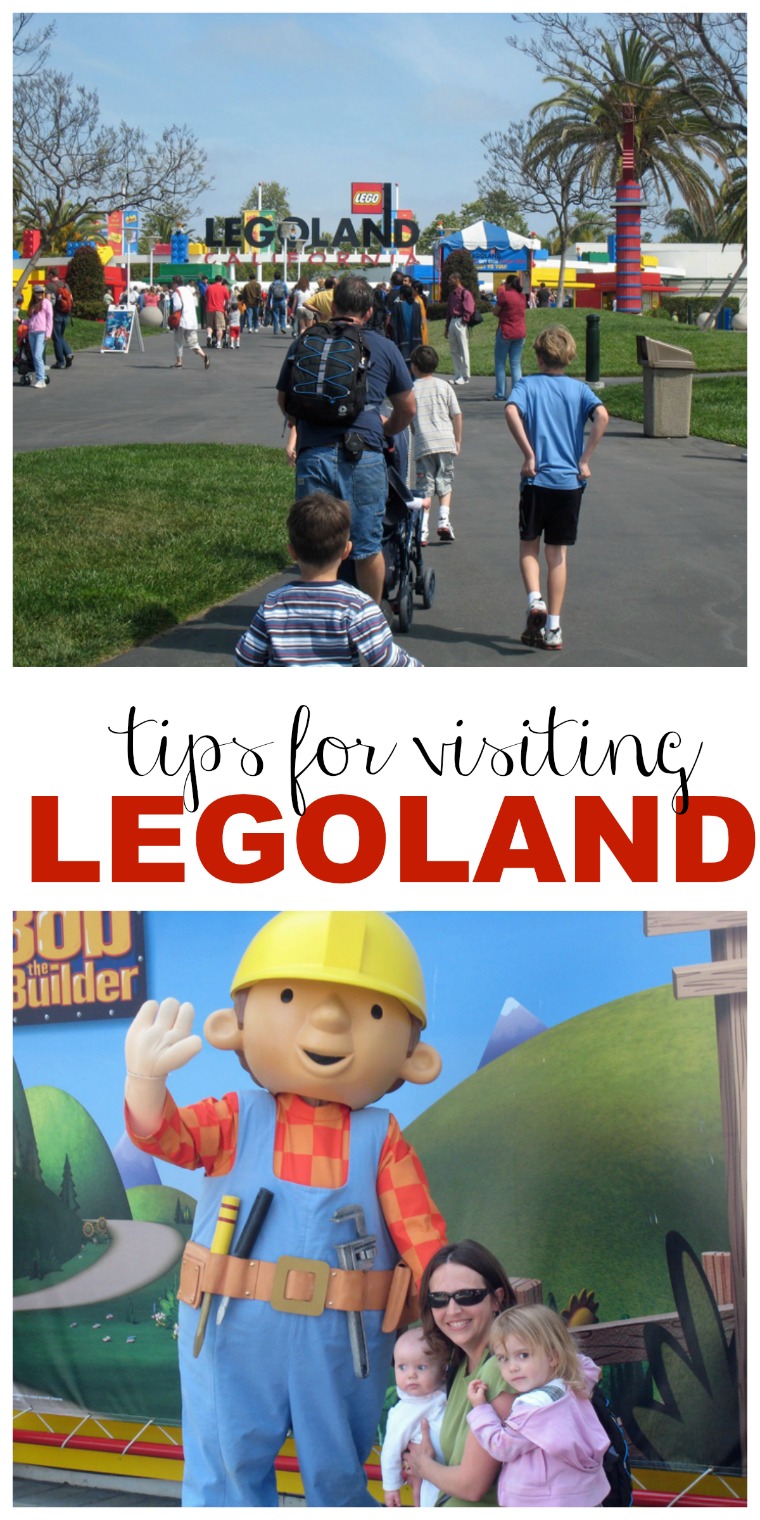 Updated May 14, 2015.