Lentil Minestrone Soup (URS: One Dish Dinners)
We are a participant in the Amazon Services LLC Associates Program, an affiliate advertising program designed to provide a means for us to earn fees by linking to Amazon.com and affiliated sites. We participate in other affiliate programs as well. For more details, please see our disclosure policy.
This week on URS, we're sharing one dish dinners. It seemed only appropriate to invite my friend Erin, the $5 Dinner Mom to come share her latest project and a tasty dish.
The following is written by Erin Chase of $5 Dinners and One Dish Dinners: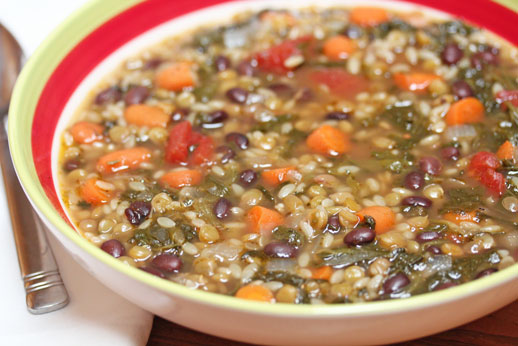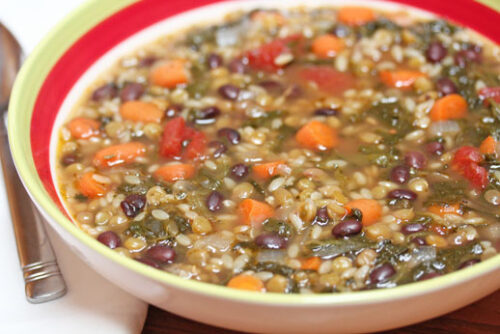 Ever since becoming a mom, I've felt like life just keeps getting faster and faster. And faster.
We have a gazillion things happening in each of our days, but that doesn't mean we have to sacrifice important things like a healthy dinner. Or our sanity.
One Dish Dinners is about making simple, healthful meals…all in the same dish. Over 90% of the recipes are made all in one dish (casserole, slow cooker, grill, Dutch oven), and the other 10% are mostly cooked in the same dish with perhaps a simple side like bread or fresh fruit. I wanted to share this soup with you guys because it is very low maintenance (as most soups are)…sauté a little, add some ingredients, bring to boil, simmer…
And then while the flavors are mingling and the ingredients cooking together into a delicious and hearty meal for your family, you can be shuffling through the mail, making a phone call or two, and getting the kids started into their table setting routine.
You get your healthy dinner. You don't lose your sanity. Win. Win.
If you are interested in learning more, you can visit OneDishDinners for recipes and tips and tricks. You can also sign up for a recipe or tip to be emailed to you once a week from One Dish Dinners. Also, my One Dish Dinners cookbook, with over 150 tried and true recipes, will be out late summer 2012.
And without further ado, I give you my latest one dish dinner creation…
Recipe: Lentil Minestrone Soup
Ingredients
1 Tbsp extra virgin olive oil
1 yellow onion, chopped
3 garlic cloves, crushed or minced
2 cups chopped carrots
4 cups chicken broth plus 4 cups water
1 15 oz. can diced tomato
1 15 oz. can spinach (or 10 oz. frozen spinach, thawed and drained)
2 cups cooked beans, white, black, red kidney, or combination
1 ½ teaspoon Italian seasoning
1 cup lentils
1 cup orzo or other small shell pasta
Salt and pepper to taste
Instructions
In a large Dutch oven or saucepan, add the olive oil and sauté the onion, garlic and carrots for 2 to 3 minutes, or until onions turn opaque. Add in 4 cups of broth plus 4 cups hot water. Then stir in the diced tomatoes, spinach, beans, and Italian seasoning. Bring to a boil.
Once a rolling boil is reached, add the lentils and cook for 10 minutes. Then add the orzo or small pasta and cook for another 7 to 10 minutes, or until lentils are soft and pasta is cooked. Remove from the heat immediately to keep the pasta and lentils from overcooking. Season with salt and pepper to taste.
Preparation time: 10 minute(s)
Cooking time: 30 minute(s)
Number of servings (yield): 6

Got a favorite recipe that can be made in one dish? We'd love to hear about it!
Next week: Soups