Lessons from a '79 T-Bird
We are a participant in the Amazon Services LLC Associates Program, an affiliate advertising program designed to provide a means for us to earn fees by linking to Amazon.com and affiliated sites. We participate in other affiliate programs as well. For more details, please see our disclosure policy.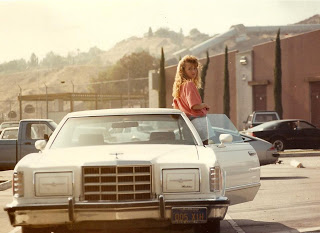 Thought you might like a glimpse into my past. This is me back in 1989, permed hair and all. That's the parking lot of my high school.
That car (enter shocked emoticon here) was "mine" for all intents and purposes. It was only 10 years old then, but it seemed absolutely ancient at the time.
Just so you know, a 1979 Ford Thunderbird measures 23 feet long. I know. I measured it once. We called it, "The Boat." And I received a fair amount of chiding from my peers thanks to that set of wheels. No one would have accused me of being "cool."
But, I think I learned to roll with it. And I laughed, too. And, looking at this photo brings back a ton of happy memories, of lunchtimes with my pack of girlfriends cramming in the backseat. (The interior was quite small in comparison to the size of the car.)
Uber-frugal, my dad wasn't about to go buy a hipper, cooler car on my account. I was the oldest of five and precedent needed to be set.
(Don't even ask what some of my younger siblings got to drive. I'm still bitter.)
Actually, although my teenage pride would have preferred a newer, sweeter car to drive, I think it was probably a good exercise in humility.
(I can't even believe I'm saying this!)
But, it was good for me.
I think I learned to laugh at my lot. I learned not to think too highly of myself — at least not in the material. I learned to make do. And, most importantly, I knew that any car was better than no car. Good lessons to have learned so that you know how to cope on a budget.
So, yes, twenty years later, I am thankful for this car, not just for the transportation it provided or the good memories I hold, but for the life lessons I learned.
Thanks, Dad.
What about you? Was there something from your childhood that you hated at the time that you are now thankful for? Share it in the comments. I think that as moms, we need the encouragement that the discipline we dole out today will produce good fruit tomorrow.